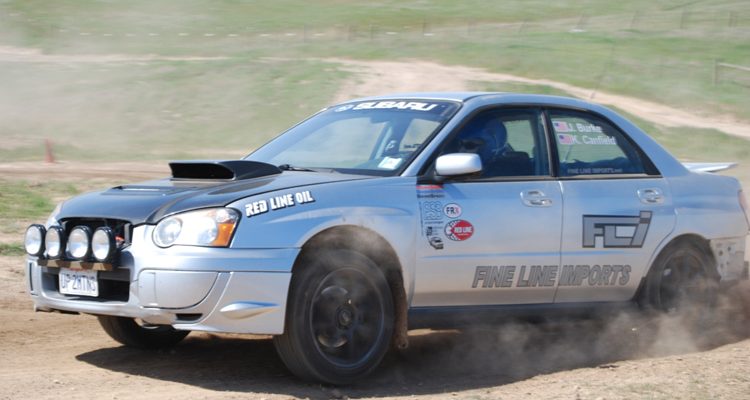 FLI and Team Up TwoMountains shared one goal with this project. The goal was to achieve a responsive set up that pulls hard all the way to redline, 7000rpm. The combination of the FLI balanced/blue printed 2.5 liter block, FLI Stage 3 ported/polished heads (with multi angle valve job, back cutting valves), JUN 256 camshafts, APS top mount intercooler and a Blouch 20G turbo worked well together. We at FLI are very excited for Team Up TwoMountains 2008/2009 Rally Race season and look forward to our future relationship!
Team Up TwoMountains is a San Francisco based Rally Team that currently runs Rally Cross events while preparing to enter the Stage Rally scene in the second half of 2009, and compete in the California Rally Series Championship in 2010. Actively involved in the local Rally Cross community, Jon Burke (driver), is on the Board of Directors for Formula RallyX (www.formularallyx.com) and helps run Rally Cross events in the NorCal area.
The car, a 2004 Subaru WRX, is currently set up for street and Rally Cross, but will receive a fully rally suspension, FIA roll cage, and all other necessary safety bits in time for its 2009 stage rally debut.
Jon and Krista Canfield (co-driver) came in 2nd place overall in the 2007 FRX RallyX series, and 3rd place overall in the 2007 CRS Rally Cross Series. They hope to improve on those marks this year as the team's driving skills improve. Another major goal for 2008 it for Jon to attend the O'Neil Rally School in New Hampshire.
Performance Modifications
Engine
FLI Stage 1 build/blue printed 2.5 liter block with coated bearings
FLI Stage 2 Port/Polish heads with Supertech Innconel 1mm larger exhaust valves
FLI 5 angle valve job with blending
FLI custom baffled Greddy Oil Catch Can
Jun 256 degree intake/exhaust camshaft
Jun Titanium Retainers and Stainless Steel Valve Springs
Cosworth .78mm head gaskets
Koyo Racing Radiator
ARP head studs
GrimmSpeed Coated Intake Manifold
GrimmSpeed Coated APS TMIC
APS 3 inch Turbo inlet
APS BOV
Cobb Tuning 70mm Air box Intake System
Power Enterprise 800 cc injectors
Walbro 255 ml/ph fuel pump
Engine Management
Link G3 plug in Stand Alone ECU
Factory Reflashed ECU: Cobb Version 1 AccessPort with 7 custom FLI Protuned Maps (Street, Hard Dry Dirt, Soft Dry Dirt, Wet Dirt, Wet Mud, Valet and Anti Theft Map)
Drivetrain/Brakes/Suspension
Cobb Tuning short throw shifter with bushings
ACT Stage 2 clutch
ACT Lightweight Flywheel
STI Group N engine mounts
STI Group N transmission mount
SS Brake Lines
EBC Red Pads
Turbo Legacy Rear Calipers/vented rotors
L&E Quick Steering Column
Cobb Tuning Rear Sway Bars
Bilstein PSS9 Coilovers
Tein front top Camber Plates
STI Rear Lateral Links
Pol-Tec Rear STI End Links
Misc Parts
Dunlop WinerSport 3D Tires
Sparco steering wheel
Seibon WRC CF Hood
Grimm Speed Hood dampers
Corbeau Race Seat
Corbeau 4-pt harness
Weight of vehicle with driver and navigator is 3200 lbs.
Power
Here is the Dyno Graph with the Link G3 ECU and FLI Stage 1.5 block, FLI Stage 2 street port heads, Jun 256 degree camshafts, APS TMIC, PE 800cc injectors and a turbo back exhaust. This is on 91 Octane.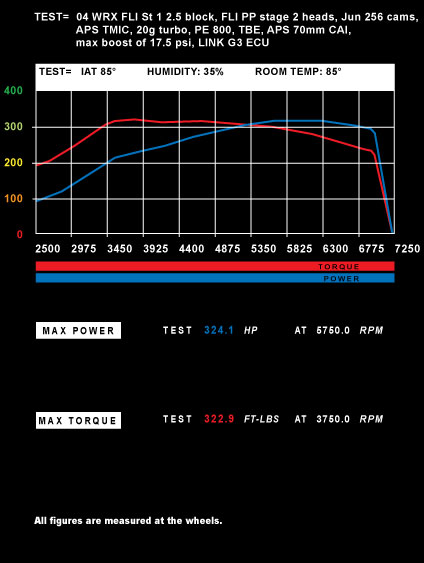 Here is the Dyno Graph that is comparing the factory ECU tuned (via Protuner/AccessPort) vs. the Link G3 ECU tune with the same modifications.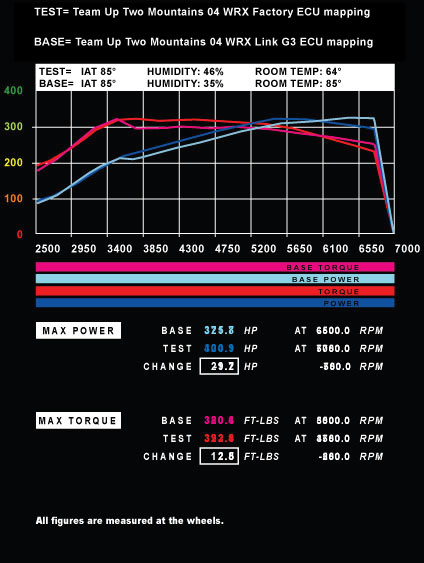 Promo Video