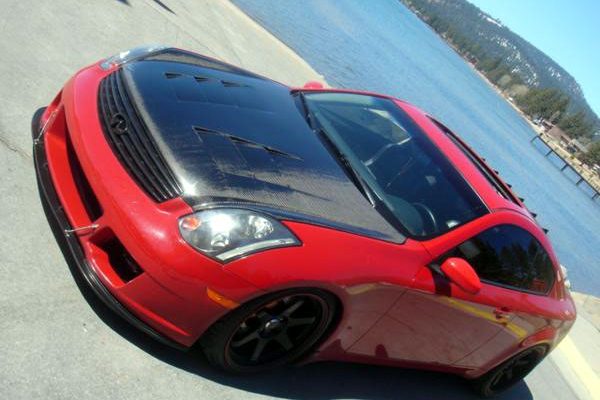 With insane horsepower and monster torque, the APS High Output System moves the Infiniti G35 performance enthusiast exclusively into the supercar club. Best of all, the APS enhanced G35 delivers uncompromised driveability. Crisp throttle response, tidal waves of torque, silky smooth highway cruising and excellent fuel economy all add up to an outstanding daily driver – and at your whim, mash the pedal and unleash the beast from within.
Turbo Speed
In the tradition of luxury sports touring vehicles, the Infiniti G35 uses some components that are better suited to this application rather than those on the more raunchy 350Z. One example of this is the front nose cone/bumper assembly. The G35 employs a more streamlined and closed approach over the 350Z and through innovative ducting behind the nose cone, alleviates some of the restriction of air to the radiator such a closed approach has. The additional ducting however imposes some limits to the maximum engine cooling capacity, hence total engine power potential and to some degree is more applicable to regions that do not experience extremely high ambient temperature conditions (at elevated engine power levels). Under these adverse environmental conditions, APS recommends the replacement of the front nose cone with one that is more open in design to ensure the best possible air flow to the engine cooling system. In addition, vehicles that are to be subjected to sustained high engine load conditions (such as circuit racing), a replacement open design nose cone should also be considered.
APS has cleverly designed the APS Intercooled Twin Turbo system for the Infiniti G35 around the APS system to suit the Nissan 350Z – to ensure commonality of parts where possible – but with the important addition of a Supplementary Fitting Kit to address the unique requirements of the Infiniti. This delivers the most cost effective solution for the Infiniti G35 owner and broadens the market to cover both G35 and 350Z owners when the time comes to sell the G35 and return it back to stock specification.
Completely built and tuned from stock by FLI. Prices start at $15000 complete with bumper.
Call today to schedule an appointment.
Performance