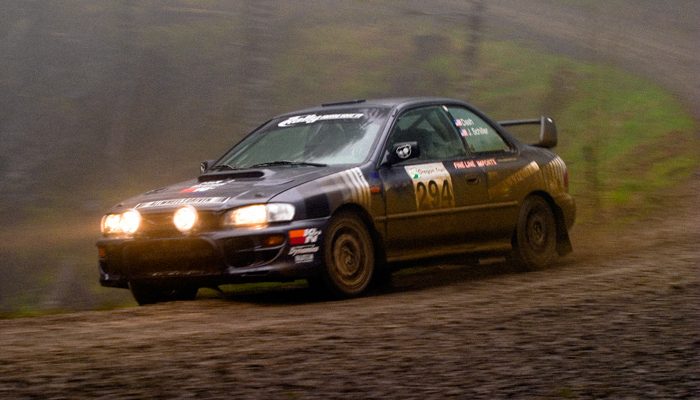 Early March 2007, FLI decided to sponsor the All Wheels Driven GC8 Open Class Rally car. All Wheels Driven is a high performance Subaru shop located in Bend Oregon, which specializes in prepping rally cars in all levels.
This Rally car is shop owned and has gone through the ultimate reconstruction. The car started out as a 1996 1.8 liter AWD dark green Brighton Coupe and now is a graphite grey 2.2 liter Sti Open Class Rally car. The entire car has been swapped, or built leaving very few parts from the original shell.
The owner/driver of this beast is Barrett Dash and the co-driver is Jonathan Schiller.
FLI's role in this project is mainly tuning and supporting the engine management system. FLI installed and tuned a Link 44S plug in stand alone ECU. The custom dyno tuned and road tuned maps include using 91 and 103 Octane fuel. The biggest challenge is obtaining the most torque and horsepower through the 34mm sized Open Class turbo restrictor. The goal is to have maximum torque in 2nd-4th gears and a stable horsepower band in 5th gear. This must be done with the engine achieving volumetric efficiency while keeping the turbo in its efficiency range. Normally this would not be a challenge but due to the turbo restrictor, it was hard for the car not to fall on her face above 4500 rpm. After multiply road tuning days on wet, dry, icy, rocky volcanic dirt, she was dialed in. All road tuning was done in Oregon, where weather condition changes daily from hot and dry to snow/wet humid air.
Open Class Regulations
The Open class regulations for Non Stock Turbo 4WD are: No limit on the power plant (block) as long it is offered from Subaru. The block can be built to whatever specification you want. No limit on turbo size as long as you run the 34mm restrictor. You must maintain stock appearance, but can change factory panels to either carbon fiber or aluminum material. The car cannot weigh less then 2600lbs.
In Action
Performance
Mechanicals
Complete engine/wiring swap w/ Hybrid EJ22T w/ massaged EJ20 DOHC heads
WRX intake manifold
Link Standalone ECU Tuned by Miles Hechtman of FLI
VF39 turbo w/ 34mm Open Class restrictor
PE 800cc injectors
Worx Tuning TMIC, Worx Tuning Lightened pulley
Samco and Perrin Silicone hoses
Koyo Racing Radiator w/ Flexalite racing fan
PDE uppipe, PDE rally spec gravel downpipe
3″ custom cat back exhaust by Scott Exhaust
Ver 4 STi Type R transmission w/ DCCD
Exedy Hyper Single clutch/flywheel
STi Short Shifter w/ Kartboy hardened bushings
STi transmission mount, STi motor mounts
R180 rear diff. w/ LSD, STi rear axles
Subaru Group N 4 pot front brakes, 2 pot rears w/ Axxis pads
Slotted Brembo rotors front, vented rotors rear
Stainless brake lines w/ Superblue synthetic brake fluid
Custom Bilstein/H&R gravel coilovers built by All Wheels Driven
Subaru Group N Strut Tophats
STi Strut brace
STi trailing arms, STi lateral links
Cosmetics/Underbody
Ver 5/6 front bumper, modified
Ver 5/6 grille, modified
Carbon Fiber Ver 5/6 hood w/ 22b vents
22b Rear spoiler
Roof vent
Custom Light bar w/ Hella 3000 Rally Lights
Custom tubular subframe w/ aluminum skid plate
Aluminum rear diff. guard
Urethene mud flaps
Complete HDPE (high density polyethelene plastic) underbody armor
15″x6″ or 7″ Team Dynamics Pro Rally 1 Gravel wheels
Silverstone gravel rally tires
Interior
Custom roll cage built to Rally America Specs, built by Judd Weld
FIA roll cage padding
Cobra Imola 2 GT Kevlar Seats
Schroth and Gforce 5 point FIA Harnesses
Momo steering wheel
Ver 5 STi shift knob
Ver 5 STi aluminum pedals
Terratrip 303+ rally computer
Terratrip map light
Two extra 12v power outlets
2 fire extinguishers
Spill kit
First aid kit
20′ tow strap
3 safety triangles
Spare gravel wheel/tire
Random knobs, switches, and gauges
Weight of vehicle without driver and navigator is 2800 lbs.