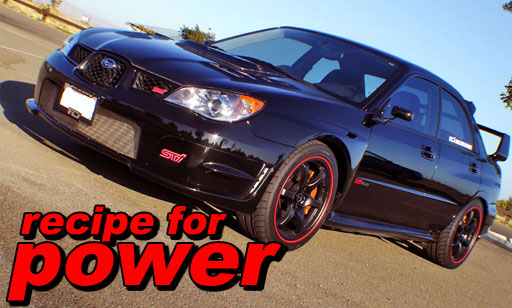 "Recipe for Power" STI 2006
"Recipe for Power" STI 2006
When building an aggressive street car there are many factors that must be considered. The owner of this car wanted big power but he also wanted to maintain drive ability. While this took a lot of money and time we are confident that we have come up with a recipe for power. The 2006 Subaru STI is now set up to be that car that embarrasses you in front of your friends.
Power
We started with a FLI Stage 4 power package which consists of a FP Green (49 lb. Wheel) turbo, Perrin FMIC, APS 70mm CAI, APS header/up pipe, APS 3.5 inch turbo back exhaust, PE 850 cc injectors, Walbro fuel pump and a FLI custom factory ECU reflash saved on the Cobb AccessPort. This car made 369 wtq and 331 whp on 91 Octane fuel with 21 psi of boost. These are respectable numbers, however, this was not enough. Here is the dyno graph:
FLI Stage 4 FP Green Dyno Graph
Long block
We set the goal of reliably making 400 whp and 400 wtq on the new engine set up. In order to achieve this goal, the FLI Stage 3 closed deck short block was mated to a set of FLI Stage 3 Port and Polish heads with Cosworth 264 degree camshafts. Supertech 1mm oversized intake and exhaust valves were also added along with a FLI valve job. The overall compression of the long block engine is 8.2:1 using Cosworth 0.78mm head gaskets.
Turbo kit and RFMIC
FLI custom made a rotated mount Garrett ball bearing GT30 external wastegate set up to bolt on to the existing APS header and APS 3.5 inch turbo with heavy-duty V band connectors. The custom kit also bolts up to the APS rotated mount 85mm intake set up. With larger turbos, you must account for more lag (turbo spool). To compensate for lag, FLI rotated the intake manifold and made custom piping for the reverse front mount intercooler (RFMIC). This process is expensive and time consuming but well worth it. FLI choose the use the plastic Legacy GT intake manifold and throttle body set up because it helps prevent heat soak.
After the engine was broken in (800-1000 miles), we found that the GT30 could not flow the volume of air needed to fill the ported heads package so we upgraded to the GT30's big brother, the Garrett GT35R turbo, which is much larger. Luckily, the GT35R turbo bolts on perfectly.
ECU
The FLI stage 4 modifications reach the limitations of the factory STI ECU so FLI recommended a stand alone ECU for anything beyond those modifications. FLI choose the plug Link G4 plug & play stand alone ECU.
Suspension, Drivetrain and Misc.
Suspension
The balance between suspension and power is very important. The suspension set up on this car consists of Tein Flex coilovers with EDFC, Cobb front and rear sway bars with upgraded mounts, Whiteline anti lift kit and a front Cusco 40 mm top strut brace.
Drivetrain/Misc
The Drivetrain remains stock besides a Cobb Tuning short shifter and Exedy twin disc Hyper clutch kit. To keep this car on the ground we used 18 by 8.5 Volk Gram Lights 57 Optimize wheels wrapped in 255/35/18 Bridgestone RE01 rubber.
We also used a Prova oil catch tank system, Greddy oil cooler and Motul engine and transmission fluids. The APR carbon fiber side mirrors, Seibon Carbon Fiber hood with Tein hood struts are there for style.
Performance
With a max of 22 psi on 91 California Octane fuel, this beast made 427 whp and 397 wtq. What was interesting with the power graph is that max wheel torque is made at around 4500 rpm and stays flat throughout the upper rpm band. This means the GT35R turbo can flow the volume of air needed to fill the ported/polished heads and camshaft set up. Another key feature is the custom RFMIC set up, which allowed this GT35R turbo to have full boost at 3400 rpm. This is about 500-600 rpm's sooner then standard front mount intercooler set ups using the same turbo.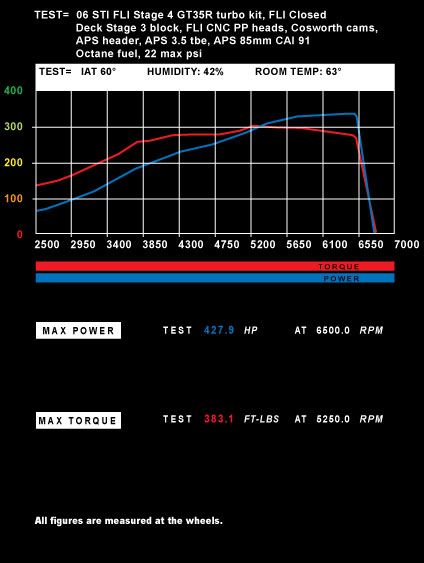 Next we installed an Aquamist HFS-5 Methanol/H20 injection kit and ran 100 Octane race fuel. Here is where we found that the current fuel set up is at the end of it's capacity with this GT35R turbo set up and our FLI head/camshaft package. As you can see, peak numbers did not increase that much but there was 30 wtq. and whp gain in the power band. Here is the dyno graph showing the power difference between the 91 Octane no Meth and the 100 Octane with Meth set ups: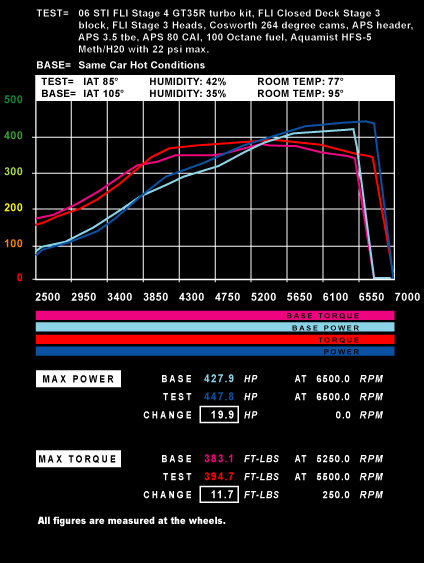 Here is a Hot Intake Air Temp (IAT) test we did with a difference of 20 IAT degrees, 7% less humidity and 18 degrees hotter in the dyno room. As you can see this is where the Aquamist HFS-5 kit really starts to work. You can notice the power differences on a hot day. Here is that dyno graph: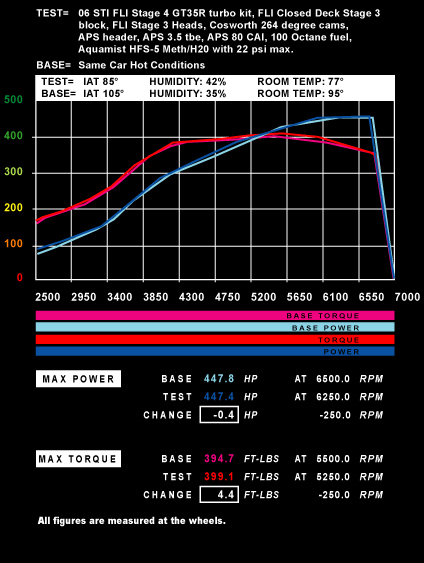 FLI and the owner is very happy with the results. After much trial and error, sometimes you must remove old ingredients and add new ones to achieve your end goal, we now have a great recipe for power.