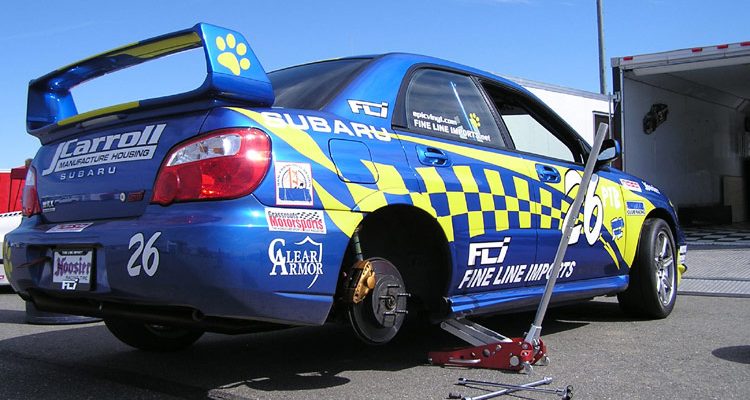 This 2005 STI was originally built and raced by Phoenix Racing during the 2005 racing season and part of the 2006 race season. Since then, our customer Jim Carroll purchased the car from its second owner and has been racing it for the past year in the SCCA T2 club bracket. Jim has had years of SCCA bracket racing experience, racing Cameros, Vipers, but this was his first season with his now favorite car, the 2005 STI. With only around 3500 Strictly Track miles driving the 2005 STI, Jim Carroll received 2nd place in the 2007 SCCA T2 Northern California Regional bracket. This is a great accomplishment for Jim and we at FLI would like to thank him for including us on this very exciting project.
Jim came to FLI in the middle of 2007 because he wanted some extra power for his 2005 STI race car. We added an OEM 12 liter water tank in the trunk (using factory mounting) and 3 extra water spray nozzles on the factory STI hood splitter. Now, when boost hits 10 psi, a waterfall of water helps cool down the intercooler and a bit of the over spray hits the intake manifold. Keep in mind, we did this using all OEM parts because of strict rules of Jim's race class.
FLI made some improvements to the intake track, adding a GP Moto plastic elbow mounting to the OEM air duct to maximize the factory ram air system. FLI also replaced the factory air filter with a BMC race air filter (Italy). The next step was to replace the fluids in the engine, transmission, differentials and brake system with Motul fluids (England). The roll cage is very stiff and extremely well made, but FLI added larger OEM sway bars to help body roll. FLI also performs regular maintenance and makes other adjustments to the car as needed.
As far as tuning, FLI was excited because this car only uses 100 Octane. If you have not been around race fuel for a long period of time, it smells fantastic! Jim's 2005 STI makes around 300 torque and 290 hp to the wheels. This is pretty much factory trim (engine, engine heads, fuel system, turbo, exhaust manifold, down pipe and intercooler). However, you are allowed to have a cat back exhaust, so the car had already been fitted with a straight pipe. Since a factory 2005 STI makes around 245-250 hp and torque to the wheels, we were happy with 50 torque and 40 hp to the wheels increase on this race car.
We are very excited about the 2008 race season and are making additional adjustments to the car to improve performance. Some new additions are Ohlin Flag (rebound and compression adjustable) coilovers, which also feature external oil reservoirs; Aquamist HFS 5 methanol/H20 kit; catless downpipe; custom DMS under carriage brace; and a set of custom 6 piston front and 4 piston rear Alcon brakes. Please see below for a full list of this car's modifications. Best of luck Jim! FLI is looking forward to another impressive season.
Performance Modifications
Engine
Drivetrain
Engine Management
FLI Factory Reflashed ECU: Created with Cobb Protuner and saved on a Cobb Version 2 AccessPort
Brakes/Suspension
JCP Coilover suspension
FLI Water Spray kit
Phoenix Straight Pipe cat back exhaust
Phoenix Racing oil cooler
OEM STI front and sway bars
OEM STI front and rear brakes
Phoenix Racing front brake ducts
Misc Parts
BBS forged 17 by 8.5 wheels wrapped in Hoosier HS6 race slicks
OEM STI body parts
Phoenix Racing 15 point roll cage
Sabelt Racing Seat (Italy)
Sabelt Racing 5 point harness
Liels Steering wheel
Radio CB system
Data logger
Weight of vehicle with driver and navigator is 3260 lbs.
2008 Additions:
Engine
Aquamist HFS-5 Methanol/H20 Kit
JDM STI Version 8 Twin Scroll turbo kit
Blouch 20G upgraded turbo
Walbro 255 l/ph intake fuel pump
Drivetrain/Brakes/Suspension
ACT Lightweight Flywheel
ACT 6 puck sprung clutch kit
STI JDM Group N transmission mount
Ohlin Flag Coilover suspension
DMS front camber plates
DMS rear camber plates
FLI Stage 4 Race Alcon 6 piston front brake kit
FLI Stage 4 Race Alcon 4 piston rear brake kit
MSI rear adjustable lateral links
MSI rear chromolly rear sub frame
18 by 8.5 VOLK RACING RE30 Light weight racing wheels
Misc. Items
Odyssey 680CCA top post battery.
Weight of vehicle with driver and navigator is 3133 lbs.
Photography by Wilson Tai at Racing Mix and FLI.