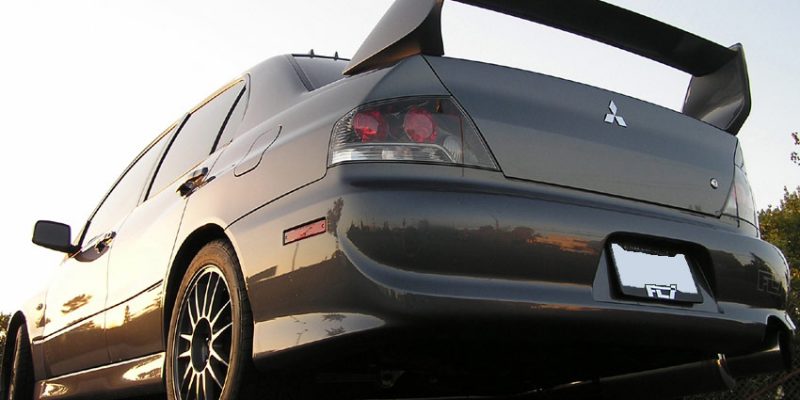 This project was built to be a street killer. The mean exhaust note and aggressive power band, makes this car very fun to drive.
The Car
This beautiful project car is a 2006 Mitsubishi EVO 9 MR. The EVO 9 is unique because it comes with Mitsubishi Innovative Valve Timing Electronic Control System ("MIVEC"). MIVEC actually alters the timing, duration and lift of the intake valve on the camshaft between low speed and high speed profiles. At low speeds, the MIVEC cam profile displays a smaller low-lift and mid-lift overlap in which the two intake valves of each cylinder have a different lift. The end result is better fuel economy, lower emissions (reduced internal EGR) and enables the 4G63 to display excellent bottom end torque. At higher rpms, the MIVEC system lengthens the valve timing in which both intake valves have equally high lifts. This high-speed mode increases the valve lift range which creates a beneficial increase in intake air volume and horsepower.
Modifications
Our goal in modifying this car was simple; to make more horsepower. FLI choose the Apexi IHI RX 6 turbo kit as the heart of the air pumping process because of the infamous RX 6 turbo combined with Apexi's reputation for high quality products. This kit uses Apexi's external racing wastegate (oil and coolant cooled), high quality stainless steel exhaust manifold, intake, down pipe (plumbed for the wastegate exhaust gases) and all necessary hardware for a bolt on kit. FLI sent out the exhaust manifold, downpipe and wastegate to be thermal coated black (2000 degree thermal barrier coating). Thermal coating helps keep the heat inside the exhaust pipes which serves two purposes; moving the exhaust gas faster out the pipes and helping prevent the heat from rising to other parts of the engine. FLI then custom mated the Apexi 2.75 inch downpipe to a polished stainless steel APS 3.5 inch turbo back exhaust.
With a turbo of this size, FLI chose to run the APS huge front mount intercooler ,powder coated black to keep the stealth stock look. Larger turbos usually have a slower spool up, so FLI went with the Cosworth M2 camshaft set, Supertech heavy duty valve spring set and Titanium retainers to accommodate a higher redline then stock. The redline now is 7500 rpm compared to the factory 7000 rpm. FLI also installed a Cosworth metal head gasket (stock thickness, 1.5mm), ARP head studs and a APS high quality blow off valve. Power Enterprise 1000cc fuel injectors and a Walbro 255 l/ph intake fuel pump were installed to take care of the fuel.
FLI chose the Link G3 EVO 9 plug and play stand alone engine management system to control this monster. Key features are gear dependent boost (you map boost for each gear-6 speed), lots of cold start menus, dual fuel, timing and boost maps (activated by a mechanical switch), 7 bar map sensor, intelligent knock control and overall ECU speeds that out perform most of the competitor's on the market.
Performance
Power improvements were 378 hp and 330 tq to the wheels on 91 Octane fuel with 22 psi of boost. Stock readings were 228 whp and 223 wtq with 91 Octane fuel. This dyno graphs shows the difference between 91 Octane and 104 Octane fuel.
On 104 Octane fuel, this beast made 398 hp and 355 tq to the wheels with 27 psi of boost.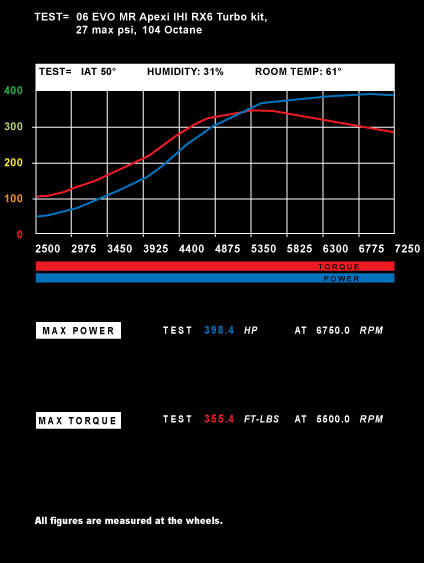 Overall, this EVO 9 MR is a very powerful street car. The massive top end power band combined with lobey mean exhaust note really sets this MR a part from other EVO's.