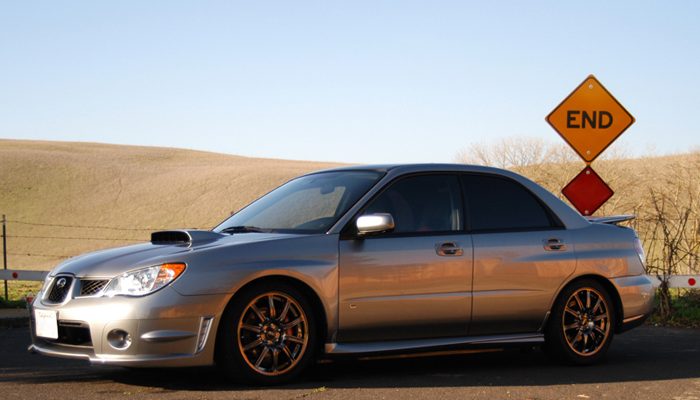 Fresh n' Clean 07 WRX Limited
Fresh n' Clean 07 WRX Limited
This is a special 2007 Subaru WRX Limited project car because it really is the fine line of daily drivable performance for the street/track. This project is owned by a very good customer who also has a full out race ready one of a kind 2006 STI. FLI started out by uninstalling the 06 STI engine and installing it into this WRX. From there, many modifications have been added for the ideal performance/reliability. Troy participates in the SCCA San Francisco Region, Sacramento Chapter Solo II competition racing with his 07 WRX LTD.
FLI wants to congratulate Troy on his victories! FLI looks forward to his 2009 race season.
2008 – 2nd place OSP (Open Street Prepared) class
2007 – 3rd place STU (Street Touring Unlimited) class
Enter the sleeper
When you attend your local autocross, you're likely to find people with exotic cars; everything from one off kit cars to very fast, old beater Corvettes. If you have not attended one of these meets, you should. It is really a pleasure to go and talk with everyone. Also, if you want to drive your car hard and not be bothered by the cops, this is the perfect opportunity to do so for a minimal fee. Just make sure to bring your helmet!
This FLI sponsored Fresh n' Clean 07 WRX has all the great looks of a clean daily driver but also has the suspension and punch to beat a trailer queen race car at the SCCA Sacramento Chapter Solo 2 Cup autocross'.
Modifications
Suspension
Everyone knows that suspension is a must when you want to be competitive at any autocross or track event. This car owner went with the infamous KW Variant 3 rebound/compression adjustable coilover suspension, DMS front adjustable camber plates, Cobb Tuning hollow front and rear sway bars (rear is 3 way adjustable), Whiteline anti lift kit, Whiteline steering rack bushings and a corner balanced fine tuned front/rear alignment.
Engine
First Stage
We started with a FLI Stage 2.5, which is an APS equal length header/up pipe, APS 3.5 inch turbo back exhaust, PE 850 cc injectors, Walbro 255 ml/ph in tank fuel pump, 06 STI top mount intercooler and a Custom FLI Protuned map saved on his Cobb Tuning Version 2 AccessPort. At this point the WRX was making 281 ft. lbs. of torque and 262 horsepower to the wheels.
Second Stage
When building Troy's full out 06 STI, Troy came up with the idea of installing the stock STI engine into his WRX, which worked out very well. With the new engine, the car made 311 ft. lbs. of torque and 278 horsepower to the wheels with 17.5 psi tapering to 10 psi. This was 16 wheel horsepower and 30 wheel torque improvement over the FLI stage 2.5 WRX engine set up.
Third Stage
Once the summer hot months arrived, Troy wanted to keep the power level high at the autocross events, so FLI installed an Aquamist HFS-5 Methanol/H20 kit using his 06 STI factory 1 gallon water tank mounted in the trunk in the OEM position. This methanol upgrade was installed with a Blouch Dominator 2.5R upgrade turbo (uses a Garrett center section and a 47 lb. wheel). At this point this sleeper made 338 horsepower to the and 354 ft. lbs. of torque to the wheels with 20.5 psi tapering to 16.5 psi. This was on 91 Octane fuel and Meth/H20 injection. Why stop there? FLI made a 104 Octane with Meth/H20 injection map that produced 377 ft. lbs. of torque and 348 horsepower to the wheels! This was a gain of 11 horsepower and 23 ft. lbs. of torque to the wheels over the 91/Meth map.
Misc. Mods
Other features include black chromed STI wheels, Cobb front and rear brake pads with stainless steel lines and ATE fluid, Sparco harness bar with camera mount, Sparco 4 point harness, Cobb Tuning short shifter and a US Spec STI gauge cluster.
Performance