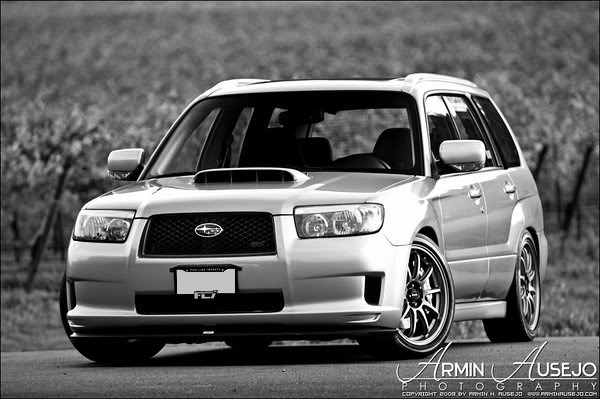 I would first like to start off with a little background on myself. I purchased my first Subaru back in 2001 when the WRX's first hit the showroom floor. Coming from a Acura RSX my stock 2002 WRX felt like a rocket ship! After thoroughly modifying the WRX, which you can read about here it was time to trade in the WRX and start a new and different Subaru project.
When it came time to choose a new Subaru I did not know what to buy. Should I get a used STI or a new 08 WRX? While I was at the dealership deciding what to do I came across a Forester XT sport and instantly new that was the car for me. Not only was the car subtle, but it also had a lot of potential. On the way home from picking up my new Forester I was already planning on my first modification.
Suspension and Drivetrain
The goal for the Forester was to have a fun, fast, low maintenance daily driver with outstanding handling characteristics. The focus of my old WRX was power. I wanted to make the focus with the Forester to be suspension because it needed the most attention from stock. Compared stock for stock the suspension in the Forester was woefully lacking compared to my old WRX. The main problems I noticed first was the amount of body roll the Forester had. This was due in part to a few things; ride height, soft OEM suspension, undersized sway bars and a high center of gravity.
Next on my list of suspension up grades were some coilovers. Thankfully Mark Moore from DMS North America stepped up with a set of DMS 50mm coilovers for me to test out. Over the years I have heard a lot of good things about DMS suspension and after visiting there North America facility for training, I was very eager to get this setup on my car to see how they would perform. The first thing I noticed about the car after the coilover installation with a four wheel alignment, was how low the car sat. Finally the car was at a good ride height for me. After the initial shake down drive I was surprised to notice how well the car rode. It was quite a good ride for coilovers and they soaked up all the bumps that we have on the streets here in Santa Rosa. Once I got the car on the back roads , this is where these coilovers really started to shine. The body roll was all but eliminated and the car handled really neutral through the corners.
Power and Braking
When I first started this project, I told myself I was not going to do anything to complex and I was going to try and do a budget type of build. All thoughts of that ended when I came across a great deal one day on a JDM 6 speed transmission with a complete Brembo conversion. Once the transmission arrived, we got right to work which was to strip down and rebuild the brembo brakes with new seals and a fresh coat of paint. A COBB short shifter, Exedy twin plate clutch, FLI custom two piece front rotors ., STI brake booster, STI master cylinder and a set of Pagid brake pads rounded out this phase of the project. On the road the first thing you notice with this transmission compared to my stock 5 speed was how short the gearing was. While limiting my top cruising speed to around 75mph max on the freeway, the new short gearing really helped out the low end to mid range power band. To date I consider this one of the best modifications I have done to either of my Subaru's and think it was well worth the money I spent on it.
For engine modifications I tried to keep things as simple as I could. I started out with a COBB catless turbo back exhaust and a Access Port with a custom FLI portune. After the stage two package was installed and tuned the car felt a lot faster with the increase in horsepower / torque and the smoothness of the power band was greatly improved. Stage two power was not enough for me though. Next on my list for power modifications was a VF-39, APS TMIC, Tomei equal length header and a re tune. This package was perfect for me on the street. Awesome low end and mid range power which is exactly what I like. The car has instant power right from the start but does fall off above 5k RPM due to the size of the turbo. which was expected.