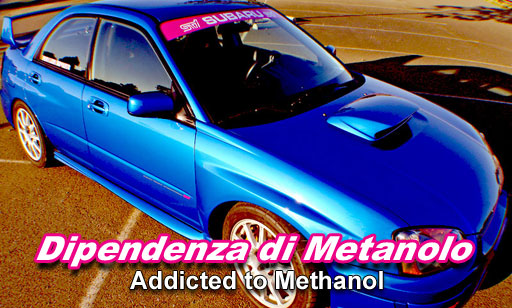 "Dipendenza di Metanolo" -Dependant/ addicted to methanol
"Dipendenza di Metanolo" -Dependant/ addicted to methanol
This special project is mainly used for weekend driving and autocrossing. This would allow FLI and the customer to perform modifications that we would not usually recommend for daily driving. This car is one of the quietest cars we have created. This would be considered the ultimate sleeper on the street and on the autocross coarse.
Stage 1 – Foundation
This customer started out with an FLI Stage 2 brake upgrade. This consist of Cobb Tuning front and rear brake pads, stainless steel brake lines, synthetic brake fluid and DBA front and rear slotted rotors. The next improvement was a Cusco master brace support bracket (helps against flex), Whiteline STX legal hardened control arm bushings and a four wheel alignment.
Unlike the 2005 and up STI, the 2004 STI uses a 5 by 100mm bolt pattern smaller hub assembly like the standard WRX model. Since the STI comes with a larger engine, compared to the WRX this caused this STI's wheels bearings to fail under autocrossing or extreme driving conditions. FLI installed a complete 5 by 114mm front and rear hub conversation with all new bearings and parts. This would mean 245/45/17 Bridgestone RE01R tires and 2006 STI 17 by 8 wheels were to follow.
Stage 2 Power
This 2004 Subaru STI was built to make power year round and to handle well while autocrossing. FLI started out with our Stage 2 Power Package, which includes custom mapping (saved on the Cobb Version 2 Accessport), an APS catted 3 inch turbo back exhaust and an k and n panel air filter on 91 Octane fuel. The car made 287 WTQ (3250 RPM) and 268 WHP (6750 RPM) with 65 degrees temp in room and 50% humidity. Right before the tune, the FLI Track Day Service was performed. This service consist of the JDM STI racing oil filter (pink), Motul 300v (vegetable oil based) synthetic engine oil and an overall check out of the suspension and drivetrain.
Stage 3 Suspension and more Power
Once the car was somewhat fast and the wheel bearing issue was taken care of, suspension is the next step. This customer choose to run the KW Variant 3 coilover suspension kit with FLI's custom valving and spring rates for autocross racing. These coilovers are rebound and compression adjustable. They also feature a threaded sleeve for ride height adjust abililty as well. In the front, the car was lowered 1.25 inches and the rear was 1.5 inches. DMS heavy duty front and rear top camber plates, which are a work of art. They help out greatly when trying to get more camber or caster out of the front or rear and the spherical bearings do not fail under racing conditions. Next installed were the Whiteline rear differential locking bolts, Perrin sub frame bolts, Whiteline rear 24 mm sway bar with heavy duty mounts, Whiteline heavy duty front and rear adjustable sway bar end links and a STI Group N transmission mount. Another four wheel alignment and Motul Gear 300 transmission fluid change were also performed.
With the car handling extremely well, more power always helps! FLI started out installing an APS 3 inch turbo inlet induction kit and the Aquamist HFS-5 Methanol/H20 kit. FLI has been testing different Methanol kits throughout the years and feels the Aquamist HFS-5 kit is superior. This kit is like no other because it uses the fuel injector duty cycle (FIA unit) as the load source for the Meth/H20 mixture spray. This creates a 1:1 linear curve between fuel injector duty cycle and the Meth/H20 spray. This is a much more precise way to map the Meth/H20 mixture rather then using MAP (manifold air pressure or boost) as the load source. This kit also offers a built in safty feature. If the flow sensor detects a clog in the line or you are running low on Meth/H20 fluid, the maximum boost allowed is the waste gate spring pressure. This will save an engine from severe damage! You can see this info on the Aquamist 52 mm gauge. This kit lowers combustion chamber temperatures and intake air temperatures which is key to make power. FLI then custom mapped the car to achieve 287 WHP (6750 RPM) and 331 WTQ (3500 RPM) from 268 WHP and 287 WTQ compared to the Stage 2 power package.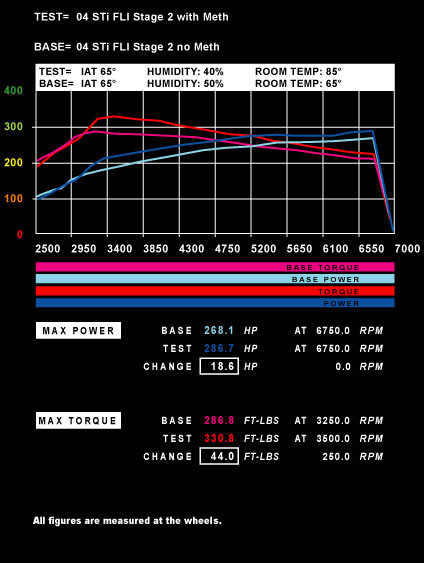 FLI performed a intake air temperature (IAT) test which consisted of a difference of 35 degrees. This test shows us that you will make around the same power when the IAT are increased 35 degrees. This helps out greatly during summer hot autocross race events.