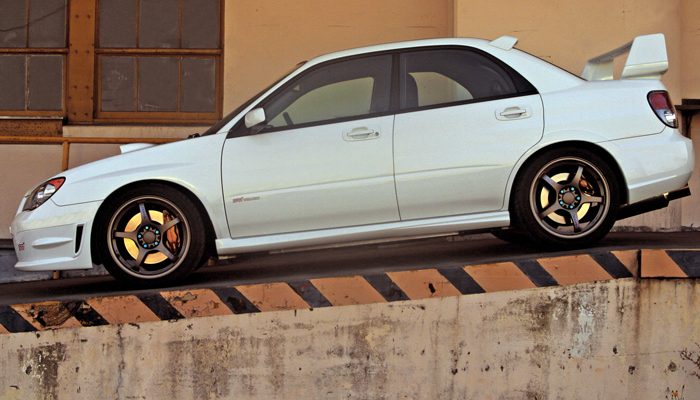 The goal of Fine Line Imports' "FLI Flagship 001" was a very fast, great handling, reliable streetcar build. You might be thinking, "isn't a stock 2006 STI with 259 horsepower and 258 torque at the wheels already that?" Arguably, yes, but a new level was achieved when an eager enthusiast and FLI met minds together. FLI tuned, the '06 STI makes a heart-racing 380 torque and 377 horsepower to all four wheels. It is important that these numbers are reflected in dyno room temperature conditions that are equal. Officially, FLI tuned equates to 117 horsepower and 121 torque to the wheels over a stock '06 STI! California is at a constant battle with poor fuel quality, with its best offering at 91 octane. Unfortunately, 91 octane gasoline greatly limits performance. With this in mind, the car runs 95 Octane regularly and is tuned and equipped for both 91 and 95 octane.
Power Alive
To create the numbers 402wtq / 384whp (cold, humid conditions), FLI chose the APS SR56 turbocharger as the base. Australian based Air Power Systems (APS) is a well-established aftermarket parts manufacture with OEM fitment and quality.
The SR56 turbo uses a Garrett ball bearing center section with an APS housing and a Forged Motorsports English-made high quality internal wastegate actuator. To maximize exhaust flow, the APS equal length header (with heat shield kit), APS 3.5 inch turbo back exhaust, and a custom crinkled black APS 70mm cold air intake were combined with a massive APS 725 front mount intercooler, cooling the intake air charge. Other bits include an ACPT Carbon Fiber drive shaft, APS blow off valve, Prodrive 3 port boost solenoid, Cobb Tuning lightweight crank pulley and a trick Braile Carbon Fiber lightweight battery.
FLI made sure the puzzle fit as a whole by upgrading the fuel system with Power Enterprise 850cc fuel injectors and a Walbro 255 ml/hour intake fuel pump. Safety as a priority, FLI controls fuel, timing and max 24 psi of boost by reflashing the ECU via AccessECU software (map is saved to the Cobb Tuning AccessPort. Leaving no stone unturned, FLI upgraded the factory map sensor to the Cobb/Zeitronix 3.5 bar map sensor because the factory map sensor is limited to 22.42 psi of pressure.
Suspension Worthy
Anyone who drives on the street realizes the most important and useful modification is suspension. Unlike the track, the street is much more demanding, especially when the car in question is daily driven. The customer insisted on Swedish Ohlins Sportline coilovers, adjustable with 25 rebound positions. Ohlins manufactures some of best suspension systems on the market. Enhancing the amazing coilovers, FLI itself insisted on Cobb Tuning front and rear sway bars.
Performance