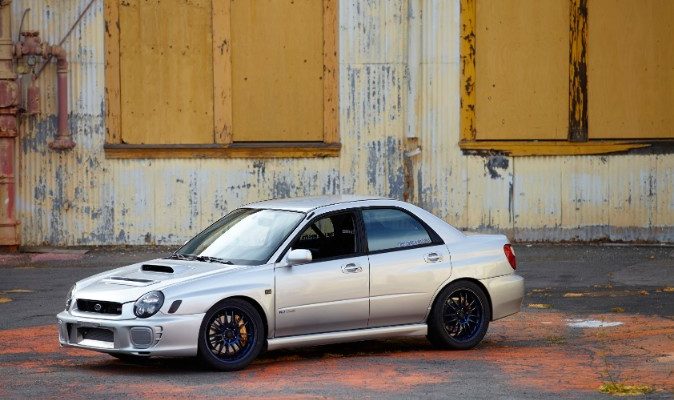 This is also an FLI demonstration 2002 Subaru WRX, which arrived in the United States in April 2001. Owned by FLI, this first generation WRX went through many changes and overcame multiple hurdles to become the car it is today. Between 2001 and 2003 there were not many US companies who manufactured parts for the WRX. Therefore, the obvious choice was to look to Japanese manufacturers and see what they had to offer. Subaru owners know the WRX is a fun car to drive but also has a lot of areas that can be improved upon for better performance.
Suspension and Drivetrain
Our first modification was to the suspension to improve stability and handling. This WRX is fitted with JIC MAGIC FLTA2 15 way rebound/ride height adjustable coilovers. This allows you to change the ride height and stiffness of the shocks. We also added Whiteline front and rear sway bars, Whiteline front anti lift kit, STI Titanium front top strut brace, rear Cusco OS top strut brace/triangle brace, front under Cusco type 2 under brace and Japanese Spec STI Version 8 aluminum control arms. These upgrades increase stability and add to the strength of the car's body/chassis. When driving this WRX you'll find that, overall, suspension performance has been greatly improved, especially in cornering and steering response.
After the suspension upgrades, the next step was to replace the poorly designed U.S. Spec 5 speed drivetrain with a Japanese Spec STI Version 5 non-DCCD transmission with the true R180 LSD rear end.
This Japanese Spec transmission has a final gear ratio of 4.44, as opposed to the U.S. Spec transmission, which has a gear ratio of 3.90. Response is much better in the Japanese Spec transmission, which allows quicker acceleration. We also used an Exedy Hyper Single clutch system to hold the power to the ground with a lightweight Chromolly flywheel and an aluminum clutch plate. A STI Group N transmission mount is also used to help control the flexing of transmission between shifts. We then added a short shifter to allow faster shifting. The factory STI short shifter (15% shorter then stock) was not short enough so we used a Cobb Tuning height and throw adjustable short shifter. This allows manual adjustment of shift knob height and improves shift time.
Power and Braking
Next would be our favorite modification: power. Torque and horsepower is key to any street driven sports car. However, living in California, you must build an engine that can be efficient on 91 Octane fuel. FLI kept this in mind when building this car's engine. We started with a Cobb Tuning 2.5 liter short block matted to a set of ported and polished factory heads with JUN 264 degree cams and JUN valve train. JUN uses Titanium Valve Retainers and stiffer valve springs. JUN's retainers are lighter than the factory steel retainers and stiffer valve springs provide greater control at higher rpms. To fill these heads, we chose an APS SR56 turbo with an adjustable Forge Motorsport wastegate. To cool the intake air charge we used a front mount intercooler. We then customized it by flipping the intake manifold around, which cut 4 feet of intercooler piping, to help eliminate turbo lag. With full boost coming on at 3500 rpm, combined with the short STI geared transmission and Chromolly flywheel, the power band is between 3500 and 6500 rpm. We realized that less back pressure equals more power if your turbo can support the volume of air flow needed to fill the bigger exhaust pipe.
With this in mind, we choose to use an APS 3.5 inch turbo back exhaust and a Cobb Tuning 235 stainless steel investment cast up-pipe. We also used an APS cold air intake system to improve intake airflow to increase the flow of air to the motor. With the increase in airflow you must feed the engine with more fuel. To do this we installed 850cc injectors and a 255 ml intake fuel pump. With this combination we made 345 foot-pounds of torque and 341 horsepower to the wheels on 91 Octane pump fuel.
Our next upgrade was the brakes because efficient braking becomes much more important when you increase power. With this in mind, we chose factory Japanese Spec STI Version 8 front (12.7 inch) and rear (12.3 inch) Brembo brakes. We also used an STI brake master cylinder and Cobb Tuning front and rear stainless steel brake lines filled with ATE synthetic brake fluid. This is a fantastic braking system that has been used on Japanese STIs since 2001.
Style
After we took care of the mechanics we started on the exterior of the car with the idea that a clean street car must have functional style combined with a simple look. To do this, we looked at the Japanese version 7 STI for ideas. We choose the HID OEM STI Version 7 headlights with the leveler kit mounted in the factory spot next to the steering wheel. We also used the STI Version 7 grill, STI Version 7 Carbon Fiber front lens covers, a Fiber Images 100% Carbon Fiber hood (including hood frame), Carbon Fiber STI Version 7 style hood scoop, and a set of STI Version 7 gold 17 by 7.5 inch wheels wrapped with Bridgestone RE070 rubber.
Performance