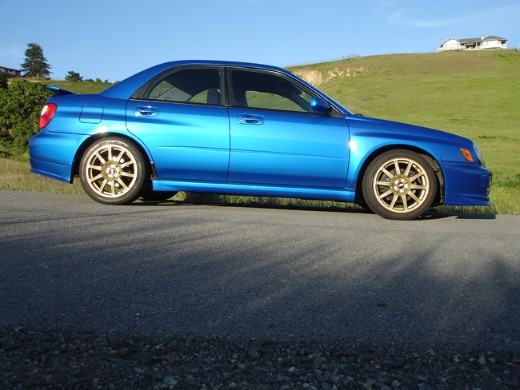 This is one of FLI's demonstration car, 2002 Generation 1 Subaru WRX. For the quest of more street-able power, this WRX has gone though 3 different engine/turbo packages. This car is one of the fastest streetcars FLI has built. This car is very fun to drive on the street. With California 91 Octane Fuel this car made close to 300 hp to the wheels at 3200 rpm and 370tq. to the wheels at 4200 rpm. With 93 Octane fuel, this beast made 401 tq. at 4250 rpm and 366 hp to the wheels at 6500 rpm. Keep in mind a stock 02 WRX makes around 160-165 hp/tq. to the wheels on our dyno.
Suspension and Drivetrain
Our goal with the suspension was to make the car handle substantially better without sacrificing much of the everyday ride quality. First step was to install a set of Tein SS coilovers with adjustable camber mounts. These coilovers were chosen for their great balance of performance and everyday drivability. The coilovers are ride height adjustable and 16 way rebound adjustable, offering enough versatility to suit most needs. Next, was a set of front and rear sway bars from COBB tuning. These sway bars are used to decrease body roll and improve the overall cornering ability of the car.
After the suspension upgrades, we upgraded the fragile 5-speed transmission that comes stock on the WRX with a more durable version from the WRX's Japanese counter part. The JDM transmission has a final gear ratio of 4:11, which greatly helps with acceleration. Mated to the transmission is the Exedy Hyper single clutch kit, which consists of a 6-puck ceremetallic clutch disk with an aluminum pressure plate and lightweight chromolly flywheel.
Power and Braking
Under the hood, a carefully selected group of high quality parts were installed and customized to compliment each other like no other package we have created before. The heart of the car is a COBB tuning stage 1 short block that consists of a STI 2.5l short block with COBB designed JE pistons in an 8.2:1 compression ratio. Mated to the short block are a set of 2004 JDM STI Version 8 heads and cams. Using these heads gave two distinct advantages; the first being these heads have a larger casting then the stock 2002 WRX heads, and secondly the heads use Subaru's Active Valve Control System (AVCS). We also use the complete version 8 intake manifold with fuel rails to complete the long block assembly. Handling the turbo charging duties is a Garrett GT30 with a .82 AR housing. The turbo up and down pipe are made by Perrin with a Tial 44mm external waste gate. FLI custom modified the Perrin downpipe to accept the Garrett 3in exhaust housing then wrapped the down pipe in thermo tech heat wrap.
Cooling the large turbo is an equally large intercooler from APS, the DR725 FMIC measures an impressive 28″ x 9.5″ x 4.5″. One of the most efficient parts of this kit is FLI's custom reverse intake manifold suited for this large rotated mount turbo. By this logic, FLI has created a Garrett GT30 turbo to reach 21 psi at 3200 rpm! Fueling the engine is a set of 800cc WRX injectors with factory STI Version 8 fuel rails and a single Walbro 255lph fuel pump.
Calling on COBB tuning again for the brake parts, we installed the COBB stage 1 brake package witch consists of COBB pads, lines and fluid. This COBB package combined with a set of Stoptech slotted rotors allowed braking to be responsive and consistent.
Performance