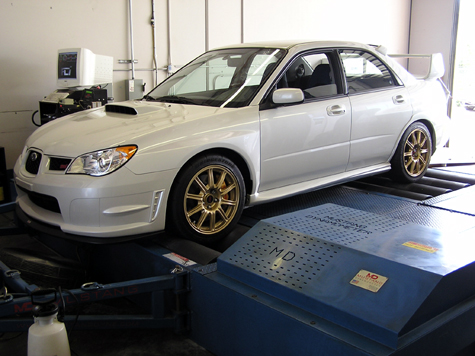 Fine Line Imports is fortunate that we get to work on lots of clean, good looking, highly modified Subaru's. Every once in a while we run across a car that takes all those things to the next level. The 2007 STI below is one of those cars. This is one of the cleanest low mileage 07 STI's (3,500 miles) we have seen. We would be surprised if there was a better kept one anywhere in the U.S. When building this car the customer wanted to keep a simple clean look, yet have a very fast, fun car. He also wanted to keep the engine bay looking stock. The result of all the hard work and attention to detail is this 2007 STI.
Knowing the customer's goals, FLI set out to build a fun and fast sleeper that no one would notice. To kick things off, FLI installed a Blouch Dominator 2.5XTR turbo, Tomei EQ header / up pipe, PE 800cc injectors, JDM 85mm air box, TGV deletes, Cobb BOV,  Link G4 Plug & Play stand alone ECU, Aeromotive fuel system and many other modifications.  To keep the car looking as stock as possible in the engine bay, Fine Line Imports utilized the OEM Japanese air box from a version 6 STI. This air box not only looks stock but has a 85mm big MAF when more tuning resolution is needed. For oil control, FLI installed a Moroso baffled oil pan and Crawford Air  / Oil Separator.    A Ron Davis radiator was also used for better cooling.  These are the best that FLI has seen on the market for oil control and coolant cooling for street  driven / track STI's.  When installing the Aeromotive fuel rails FLI changed the silver braided lines that come in the kit with Goodridge black braided fuel line for a more stock look. FLI then proceeded to install a set of OEM JDM TGV deletes and a APS turbo inlet that has been coated flat black for a more OEM look.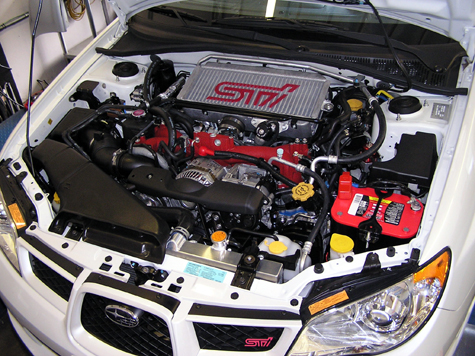 Keeping with the clean and simple theme from the engine bay, the suspension for this 2007 STI is no different. A set of RCE yellow springs, COBB front and rear sway bars, Whiteline ALK and a set of Whiteline steering rack bushings were all installed. These cost effective mods are ones that we do quite often at FLI. Not only do they keep the factory ride quality, but they improve the looks and overall handling of the car without breaking the bank cost-wise. Coupled with an ACPT carbon fiber drive shaft and group-N engine and tranny mounts, this car is suited well for the streets and light track driving.
With all the parts installed, it was time for this 2007 STI to hit the dyno. FLI made two maps, one for 91 octane and the other for E85 fuel. The 91 octane map is a more conservative tune leaving the big power to be made on E85.
Even on 91 octane this car still managed a consistent 342 WHP and 316 WTQ with 18 pounds of boost tapering to 17. With the 91 map completed, FLI's lead tuner Miles Hechtman filled the car up with E85 and went back to work.
On E85 this car put down a very respectable 379 WHP and 363 WTQ with a very broad and flat power curve. While not breaking any horse power records, this car is a monster on the street. What feels like instantly, boost comes on and pulls hard all the way to redline. With a built motor and a little more boost this package has a easy 400whp and 400wtq in it. Overall, this is one of the most fun street cars we at FLI have built recently, and we are very happy it has a good home.