Team Up Two Mountains Debuts Gorman Ridge Rally!
Team Up Two Mountains Debuts Gorman Ridge Rally!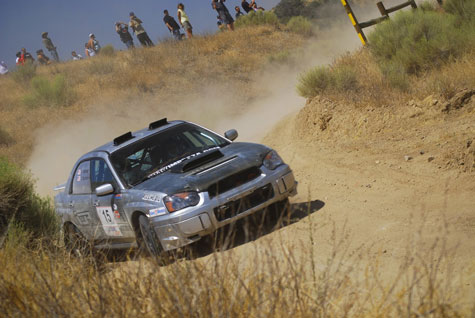 FLI has been involved in Jon Burke's 2004 Subaru WRX for many years.  He started out by competing in FRX (Formula Rally Cross) events, which is basically an auto-cross on dirt.  From his experience in co-driving rally events, attendance in rally schools, and years of racing in FRX, Jon has completed his first Rally Event.  FLI is very excited for Jon's future and his passion for rally racing.
Here are Jon's words from the event:
"Here are Driver Jon Burke and co-drive Tucker Heiner made their stage rally debut this past weekend at Gorman Ridge Rally, pars of the California Rally Series (CRS) and United States Rally Championship (USRC). (Photo above: Louie Minette)
Saddled up in an AWD Open Class 2004 Subaru WRX which was literally finished just days before the event, the detuned turbo engine was fitted with a restrictor, and tuned at Fine Line Imports; putting up 267wtq and 210whp was still a peppy and responsive car for the rookie team.
The weekend started on Friday with final adjustments to the suspension (raised 1.5" for Gorman's notoriously rough roads) and several hours of recce. Jon had co-driven these roads at the 2008 Gorman Rally, and was able to create accurate notes with Tucker (who is new on the rally scene).
Saturday started leisurely with the drivers meeting at 10:15am and our out time was just an hour away. Being new, we were lined up at the back of the pack; but Stage 1 was good to the new team…putting up a respectable 5:20 time, they passed one competitor and almost caught up to the next by the end of the stage….they were on their way!
Stages 2 was interrupted when a competitor rolled on a fast downhill section of Power Line Rd…everyone was safe, but most teams received the same bogie time. Stage 3 (same as Stage 1) was also good to the team, with a 19 second improvement.
The Rally Gods struck early in Stage 4 with a broken drive shaft which put the team out of contention for CRS points, but started a service crew frenzy to replace the drive shaft and keep competing under USRC 'Super Rally' rules. With key help from Aaron Ekinaka (founder, www.DirtyImpreza.com) and other DI volunteers, they were able to swap out the aftermarket drive shaft (whoops, don't fix what ain't broke!!) with the OEM one with time to spare to eat some Rally BBQ!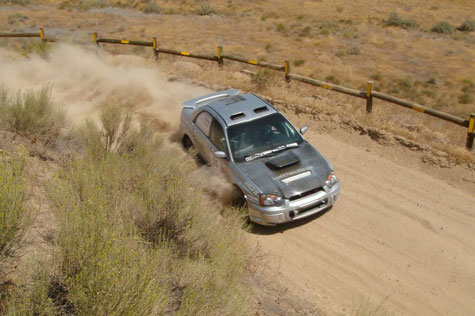 At this point, the race was on to just finish… a loose battery cable almost kept them from starting Stage 8 and small boulders took off their exhaust, but they were able to start Stage 9 with literally a minute to spare. They finished Stage 9 (same as stage 1 and 3) with a very fast 4:44….only 12 seconds slower than the stage record of 4:32 set by Keith Jackson and Marra Estep…showing that the rookie team has what it takes to be fast! (Photo: Zachary Dickinson)
The next obstacles were a faulty co-driver light and a flat tire on stage, but the Jon and Tucker prevailed and rolled across the finish at Stage 12!
We'd like to thank all of the help from individuals and sponsors who made this rally happen for us:
Ray and Donna Hocker and Mike and Paula Gibeault and all the volunteers for putting on such a fun event!
Lars Wolfe – for building us a great cage, and the tons of rally advice.
Michel Hoche-Mong – letting us borrow the intercom, car trailer, and HANS device…oh, and for scrutineering my cage, and passing us at tech! (and for tons of advice)
Miles, Ryan and Steve at Fine Line Imports (www.finelineimports.net) for building us a great engine with a great tune!
All the help we received from individuals at www.DirtyImpreza.com, www.RallyAnachy.com and www.SpecialStage.com
COBB Tuning (engine and interior parts)
GrimmSpeed (engine parts/porting/coating)
Redline Oil (all fluids)
L&E Fabrication (quick steering column)
Safe Drives (ALL our safety gear)
Metropolitan Motors (tire mounting/balancing)
Project Solo Gear (skid plate, which did its job!)
Jon and Tucker will be at Prescott Rally (http://www.prescottrally.com/ ) the first weekend in October, with the goal to finish each stage and take home some CRS points."
Here is the video from Gorman Ridge Rally 2009:
Good luck at the next rally event Team Up Two Mountains!
Here is the link to Team Up Two Mountains blog.
Here is the link to an I-club Post.
Here is the link to the You Tube video.