FLI HHP Fuel System is in the works!
FLI HHP Fuel System is in the works!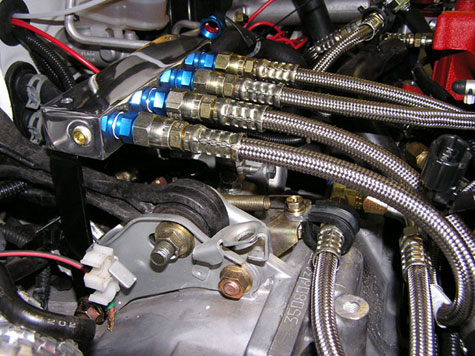 Update: FLI has started our HHP (high horsepower) fuel system which consists of the APS Aux. 4 injector (600 cc each) kit with fuel rails, APS standard fuel rails for PE 850cc injectors, FLI custom surge tank, FLI custom mounting plate (for Aeromotive A1000 fuel pump, Aeromotive fuel filter, Aeromotive fuel regulator, Aeromotive fuel pump controller, Aquamist HFS-5 pump), Aeroquip heavy duty fittings and fuel lines.  Overall fuel injector support will be 1450cc which will be only used in full boost.  Driving around town this engine will only use the PE 850cc injectors.  The reason for this is for better fuel economy, cold starts and partial throttle.  This will be controlled by the Link G4 Extreme Stand Alone ECU.
Here are some pictures of the system.  Look forward to the final update on the FLI HHP Fuel System soon.