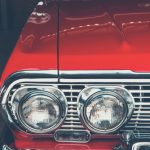 When it comes to classic cars and muscle cars, there's an undeniable charm that stems from their timeless designs and powerful engines. However, as automotive technology advances, it's natural to yearn for the best of both worlds: retaining the authenticity of your vintage vehicle while enjoying the benefits of modern performance and reliability. Holley's Sniper EFI Kits are here to bridge that gap, seamlessly integrating advanced electronic fuel injection into your classic automobile. In this blog post, we'll explore the remarkable advantages of Holley Sniper EFI Kits and how they can transform your beloved ride.
Preserving the Authenticity
One of the key advantages of installing a Holley Sniper EFI onto a classic car or muscle car is that it seamlessly integrates with the original design and aesthetics of these vehicles. The last thing you'd want is a classic beauty with a modern engine that looks out of place. Holley understands this concern and ensures that the installation is done with utmost care and precision, preserving the authenticity of your automobile. The Sniper EFI's compact design means you won't have to worry about any intrusive modifications that may compromise the integrity of your car's engine bay. It discreetly enhances performance without detracting from the classic appeal.
Bid Farewell to Carburetion
Say goodbye to the old days of carbureted engines, which, while iconic, often struggle to meet today's standards of fuel efficiency and reliability. The Holley Sniper EFI is designed to usher your classic car or muscle car into the modern era. This advanced electronic fuel injection system is not just a replacement; it's a transformation. By delivering precise fuel atomization, it significantly improves fuel economy and overall reliability. No more hesitating starts or inconsistent performance – the Sniper EFI's self-learning capabilities ensure optimal fuel delivery under various driving conditions. Your classic car or muscle car will run smoothly and efficiently, just as it should.
Hassle-Free Installation
You might be wondering if such a transition would require you to be a seasoned mechanic. Rest assured, installing the Holley Sniper EFI is a breeze, even for those with minimal mechanical experience. Holley's team of skilled technicians will guide you through the installation process for your performance package, ensuring that everything is set up correctly. The Sniper EFI kit is designed with simplicity in mind, offering a plug-and-play solution that can be easily integrated into your existing engine system. This makes the conversion process straightforward and hassle-free, meaning you can enjoy the benefits of modern technology without the headache of a complex installation.
Tailor-Made Performance
While preserving the original design and authenticity of your classic car is essential, it doesn't mean you have to sacrifice performance. Holley's Sniper EFI offers a wide range of customizable features, allowing you to fine-tune your engine's performance to suit your preferences. From ignition timing control to nitrous oxide compatibility, the Sniper EFI provides advanced control options that can be adjusted according to your specific needs. No matter if you're looking for enhanced torque or improved fuel efficiency, the Sniper EFI has you covered.
What makes this kit truly exceptional is the included handheld controller, which gives you the ability to make changes on the go. Whether you're cruising down the highway, hitting the racetrack, or just enjoying a Sunday drive, you have complete control over your vehicle's performance. This dynamic adaptability means your classic car can cater to various driving scenarios, and you can always optimize your settings to match the occasion.
Conclusion
Holley Sniper EFI Kits are a game-changer for classic car and muscle car enthusiasts. With a commitment to preserving the authenticity of your beloved vehicle and providing advanced electronic fuel injection technology, Holley has created a solution that caters to both the past and the present. No longer will you have to choose between keeping your classic car's original charm and upgrading its performance. The Holley Sniper EFI seamlessly combines the two, giving your classic car or muscle car the best of both worlds.
The days of struggling with carbureted engines are over. With the Sniper EFI's precise fuel delivery and self-learning capabilities, your classic car will run smoother and more efficiently than ever before. And don't let the fear of a complex installation hold you back – Holley's user-friendly approach ensures that anyone can make the switch to electronic fuel injection.
Moreover, the ability to fine-tune your classic car's performance with advanced control options and the handheld controller empowers you to tailor your driving experience. Whether you're a purist or a performance enthusiast, the Holley Sniper EFI Kit offers a remarkable blend of old-school charm and modern efficiency. So, if you're ready to unleash the full potential of your classic car, consider making the switch to Holley's Sniper EFI Kit – it's a decision you won't regret.
Got Questions? Let Us Help!
Welcome to Fine Line Imports! Fine Line Imports is a family-owned and -operated repair shop that specializes in Japanese automotive repair. We are experienced and trained to repair and maintain Subaru, Nissan, and more! We offer custom-tailored engine, transmission, and drivetrain rebuild packages, OEM services, and comprehensive tuning plans. Fine Line Imports is also a Motul fluids provider, and we are factory trained and ASE certified. We also have the only four-wheel drive chassis dynameter in the county! With this advanced tool, we can simulate road conditions under various loads up to 140 miles per hour, and consequently map performance and measure torque with various outputs. Our team is ready to help! Call us today!