Vendor Spotlight – Goodridge UK and FLI
Vendor Spotlight – Goodridge UK and FLI
Vendor Spotlight – Goodridge UK and FLI
Goodridge UK is a world leader in fluid transfer systems, operating in the OEM, automotive, motorcycle, motorsport, defense and specialist industrial sectors. Founded in 1969, this dynamic private company manufactures in ten facilities globally. Originally founded in the small Devon market town of Totnes (UK) by Stuart Goodridge, the business has grown into a global organization with manufacturing and distribution operations in France, Germany, Spain, Holland, Mexico and two in the USA. All Goodridge brake lines are pressure tested before dispatch to guarantee leak free performance and increased braking efficiency. They are also TUV, DOT, ADR and ISO approved.
Certifications
Goodridge UK has a long and distinguished history of supplying hoses and other hydroids to the world's leading automakers. Their latest and greatest is a well-oiled machine that's capable of delivering quality goods on time and on budget. They do it by using a modernized lean manufacturing process. They also have a dedicated business process improvement manager to help make sure their product is the best it can be. Lastly, they have a plethora of quality certifications at their disposal to ensure they deliver what you need when you need it. There is a reason Goodridge is the king of the UK brake hose assembly market.
Technical Support
Founded in 1969, Goodridge is a global powerhouse with ten facilities across the globe and an impressive list of clientele that includes the likes of BMW, Mercedes, and Honda. This company also has a well deserved reputation for delivering the goods when it comes to ensuring their customers have the best possible experience. One of the coolest features about Goodridge is that they provide a large number of technical support representatives that are on hand to answer your questions in a timely fashion and explain their products in plain English so you don't have to.
Fine Line Imports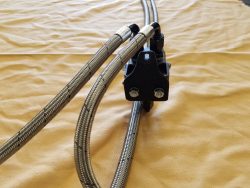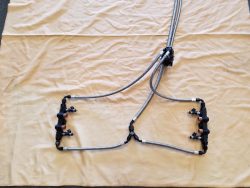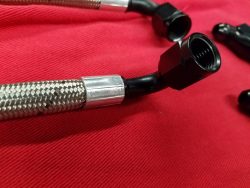 FLI crimps in house all hard and soft line hoses with Goodridge high-quality fittings. It's one of our sharp knives in the industry. Fuel, oil, power steering, automatic transmission, clutch or radiator line are all custom-made in-house by FLI. The lightest motorsport hose in the world is the 910 series. Other options are the 810 series which is stainless steel braided. Most fittings are double swivel which makes installation much easier and serviceable. Drop off a mockup version and FLI can likely crimp up some custom lines the same day if all parts are in stock. Or if you need any custom lines made on the car, we can accommodate that as well. Contact FLI today for any of your hose crimping needs!