The Importance Of Oil Analysis
The Importance Of Oil Analysis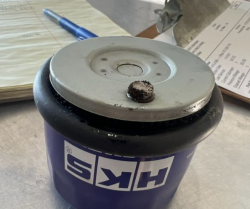 An effective oil analysis program can reduce maintenance costs, increase engine productivity and ensure reliability. This is a key component of condition based maintenance (CBM).
Predictive Maintenance
Predictive maintenance is a key part of automotive engine longevity and the best way to catch engine failures before a catastrophic event happens. It's a great way for owners to take control of their assets. It can reduce downtime, keep engines in working order, and improve engine performance.  Oil analysis is an important technology in predictive maintenance. It determines the presence of water, particles, and contaminants. It also establishes the acid or base number of the oil. This information can help technicians identify any contamination that may cause problems including various metals or coolant. It is much better to find a problem in an engine before a large event happens.
Reduced Downtime
Downtime is one of the biggest headaches for automotive owners, especially people who race on tracks. Reduced downtime is essential to keeping automotive engines running. Identifying the causes of downtime helps pinpoint what maintenance needs to be done and when. It also allows for more effective data gathering, analysis and reporting. Accurate and relevant information allows for faster decisions and better overall communication. Using an oil analysis program as part of your condition monitoring strategy is a great way to reduce downtime, increase longevity and prevent engine failure. This is especially important as oil contamination can cause serious damage to engines, including overheating, corrosion and complete engine failure. For example, if more then average of bearing material is found in the oil sample, FLI would change the weight of oil to help fill the gap between engine bearings and parts or maybe change oil type. These oil test can be compared to previous samples from  your same engine or against national averages for the same spec engine.
Preventative Maintenance
Preventative maintenance is a vital strategy to improve an engines lifespan. It involves four key action items: inspection, detection, correction and prevention. A preventative maintenance program can be custom tailored to an engine use goals. A preventative maintenance oil analysis program can give you an early warning of potential issues with your lubricants, so you can change them before they turn into costly repairs or replacements. It can also help you make better decisions about lubricant quality.
Contact FLI to create your custom engine oil analysis program today!