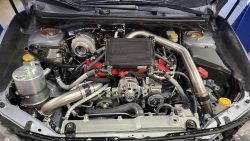 For over two decades Fine Line Imports' sharpest knife in the aftermarket industry has been the Subaru brand. Purchased in April 2001, the co founder and lead ECU calibrator Miles Hechtman drove his platinum silver metallic 2002 Subaru WRX sedan from Subaru of Santa Cruz's lot. It was the second shipment from Japan. In 2001-03 support for this platform in the US was non existent.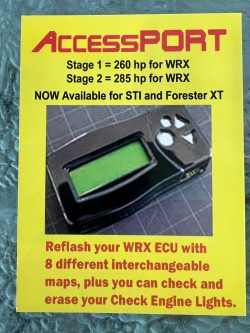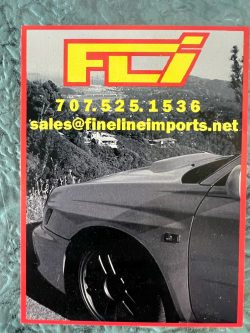 We had to create upgrade solutions before manufactures did so. FLI started with studying the Japanese models, this is where we base our foundations for most of our Power, Suspension, Braking, Chassis Packages even through today. FLI started with suspension packages, then moved to power, braking and chassis.
FLI Power Packages
The first major company that manufactured aftermarket parts at a high level was Air Power Systems, Austrailia. They created some of the nicest hard parts even to this day. APS has not manufactured parts since 2009-10.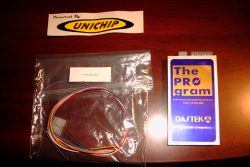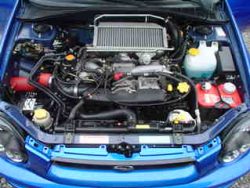 In the early 2000's, Cobb Tuning was the North American distributor of Air Power Systems. It was this relationship that really helped FLI establish power packages. Unichip's (fuel, timing and boost piggy back control module) were used to map the APS intakes prior to reflashes becoming available from Cobb. FLI called this our Stage 1 Power Package using the 65mm or 70mm APS Cold Air Intake, wired in Unichip and a custom tune. 25-40 WHP and WTQ was achieved with custom tuning using the stock turbo back exhaust system. FLI made long time friends in the industry, starting with Trey Cobb who reversed engineered the factory engine computer first. Late 2003, FLI started to reflash the ECU using Cobb Tuning's Version 1 Accessport and the Accesstuner Pro's custom reflashing software. Once we could tune for aftermarket turbos, fuel and exhaust systems we dedicated hundreds of hours on the dyno to find out the most efficient, safe power packages which we supplied to the local market and also included 04-05 STI models.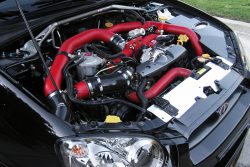 As the industry grew and there was more support for the EJ platform, FLI's custom power packages evolved as well. Link ECU has been a very old friend of FLI because they created the first plug and play stand alone ECU solution for 02-07 Subaru WRX / STI's. These ECU's were used in FLI custom parts like Reverse Front Mount InterCooler setups with custom rotated mount turbo kits, Front and Rear fuel systems. Later head modifications including valve train and closed deck block creation was performed in 2007.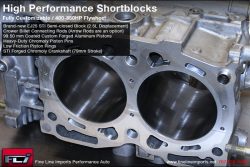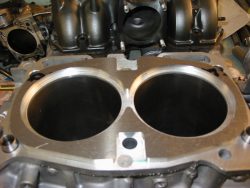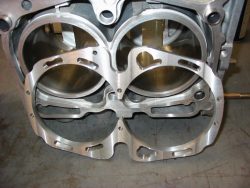 FLI's Subaru Power Packages continue to evolve. If a better part has been created or a more efficient streamlined solution is available then these will be applied to our packages. CARB legal is a major factor which FLI respects.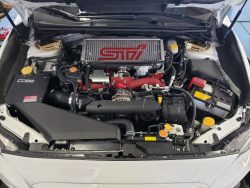 FLI Stage 1
Stage 1 Power Packages consist of a stock car with a custom FLI tune. This stage is for someone who wants a cleaner driving car in stock form. Better fuel mileage and more power are usually achieved.
FLI Stage 2
Stage 2 Power Packages uses all from Stage 1 but require CARB legal intake and exhaust systems. Loving FLI's Stage 1 Power Package but looking for more? We usually see 10-15% increase of power to the wheels over FLI's Stage 1.
FLI Stage 3
Stage 3 utilizes all Stage 2 parts but added updated custom tune and hard parts like piping, intercoolers, FLI Stage 1 FPR kit, larger injectors, fuel pumps and boost solenoids. An average of 10-15% additional power is usually made over Stage 2. FLI's Stage 3 Power Package is the safe limit on a stock engine.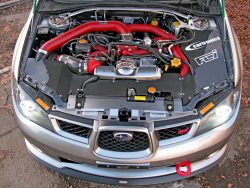 FLI Flagship Street and Race
Flagship Street and Race packages are built around FLI's Staged long blocks, intake, exhaust and front/rear fuel packages including stand alone engine control computers. All parts are hand picked and built around fuel quality used. These performance packages obtain a large amount of power increase but are designed for respectful longevity with required maintenance. Each package is custom created for the car and driver. FLI establishes a service program for all Flagship Street or Race packages.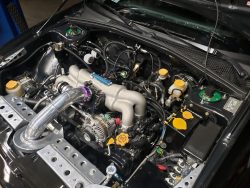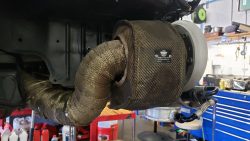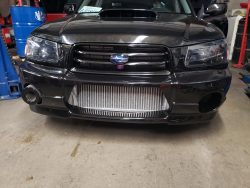 FLI Suspension Packages
FLI has spent hundreds if not thousands of hours to come up with our streamlined suspension packages. Like everything else at FLI, all parts are hand picked by our team of specialist. It is important to have frequent alignments for proper tire wear and handling purposes. US roads are not the best and all it takes is one wrong pot hole or bump in the road to set off the alignment.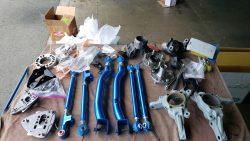 FLI Stage 1
Stage 1 Suspension Packages consist of an upgraded adjustable rear sway bar, front control arm bushings (usually adding more caster) and optional lowering springs if the OEM struts are in good condition. Of course this is setup using an FLI Spec Alignment.
FLI Stage 2
Stage 2 Suspension Packages uses all parts from Stage 1 but adds upgraded aftermarket struts (sometimes adjustable) with a lowering spring, OEM top hats and an FLI Spec alignment. This is for someone who wants more performance then factory struts but still can anywhere.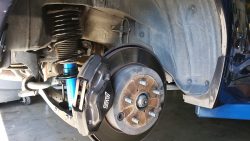 FLI Stage 3
Stage 3 Suspension Packages are a true 1 or 2 way coilover set up with either OEM style top hats or metal spherical bearing camber plates. Optional adjustable front and rear arms can help with setting the proper alignment. Again this is set up with an FLI Spec alignment. Most setups are either rebound, compression or both adjustable.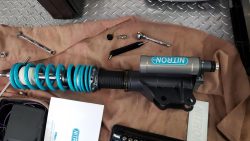 FLI Flagship Street and Race
Flagship Street and Race packages normally come with 3 way coilovers which offer independent rebound and compression adjustments. FLI custom spring rates and valving are optional along with other motorsport / aggressive street bushings. Adjustable front and rear control arms are used to achieve the proper alignment specs for the exact wheels and tires being used. Corner balancing is also offered. FLI Flagship Street and Race Suspension packages are hand tailored for the exact driver use. FLI establishes a service program for all Flagship Street or Race packages.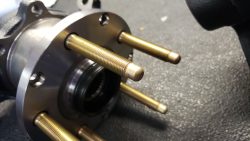 FLI Braking Packages
Fine Line Imports puts safety first. This starts with excellent braking and servicing. Brake fluid needs to be flushed every 30k miles on street cars and around 15k miles on street cars that go to the track more then 3 times a year. Race cars need to get flushed every 6-8 track events depending on fluid sample.
FLI Stage 1
Stage 1 Brake Packages normally use DBA rotors, Hawk, OEM or DBA brake pads with all new OEM hardware, Motul RBf 600 and a brake bleed. You will have a better performing braking system compared to stock which is noticeable.
FLI Stage 2
Stage 2 Brake Packages include two piece DBA rotors (front), Hawk, Pagid or Ferodo brake pads and Goodridge stainless steel brake lines with Motul RBF 600 or 660 fluid including a bleed.
FLI Stage 3
Stage 3 Brake Packages use an AP Racing or Alcon street larger piston caliper (with dust seals), two piece rotors (front), Pagid or Ferodo brake pads and Goodridge stainless steel brake lines with Motul RBF 600 or 660 fluid including a bleed.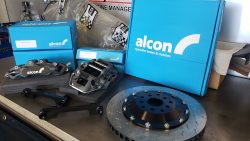 FLI Flagship Street and Race
Flagship Street and Race packages come with either AP Racing or Alcon larger, more aggressive versions of FLI's Stage 3 Packages. The Flagship Race will have no dust seals (front) with racing two piece rotors and more aggressive Pagid, Ferodo or Endless brake pads. These kits will also use Goodridge stainless steel brake lines with Motul RBF 600 or 660 fluid including a bleed. All parts are hand picked to match the driver and application, purpose built. This package is the best FLI can come up with for that situation. More servicing and monitoring are necessary.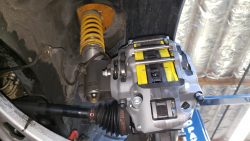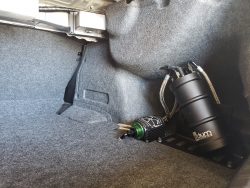 Performance at a high level
Fine Line Imports creates custom power packages best suited for the engine and owner's needs or desires, custom suspension packages to bring handling up to your needs and braking packages to have complete stopping force when used. You can rest assured that we have spent the necessary time to offer performance at a high level with respecting longevity and efficiency.
Contact us for any questions or Estimates!