FLI Performs Full OEM Maintenance Services for Japanese Spec Nissan Skyline GT-Rs Covering R32, R33 and R34
FLI Performs Full OEM Maintenance Services for Japanese Spec Nissan Skyline GT-Rs Covering R32, R33 and R34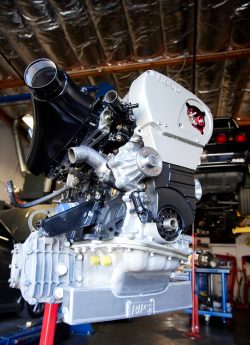 The long-awaited day has arrived! For years, the Nissan Skyline R32 GT-R has been off limits for import to the United States. But the wait is over. We have passed the 25-year mark on these early GT-R models to satisfy the import laws, and now lovers of performance cars can look to the GT-Rs for their next purchase. Once you take apart one of these chassis, you realize how special and the high level of engineering that Nissan invested into them. FLI not only respects this but tries to approve upon without compromising it.
Of course, you'll also need a trustworthy source to perform maintenance or upgrades on these foreign autos. You'll want mechanics who are experts in Japanese models and understand how to keep these engines and components running smoothly. Fine Line Imports is ready to help. Here's what you need to know:
Godzilla goes legit
The R32 was manufactured from 1989 to 1994. According to U.S. federal regulations, any car less than 25 years old must undergo scrutiny by the National Highway Traffic Safety Administration (NHTSA) regulations. Cars more than 25 years old, however, are exempt. That means after years of having to put up with registration hassles and under-the-table deals to get one of these Godzillas in the United States, these R32 GT-Rs are now legal—yes, even in California!
These Japanese, Australian and European performance cars are right-hand drive only, but it's likely we'll start to see more and more of these supercars on U.S. roadways.
What's under the hood
The Japanese RB26DETT engine was designed for the Nissan GT-R R32-R34; however, it has since been installed in other models, such as the Nissan 300ZX, Ford Mustang and Infiniti G35. The engine, produced and sold solely in Japan, has become a legend in the U.S. for its incredible horsepower.
The RB26DETT is modifiable to crank out over 500 horsepower with parts and upgrades. The 2.6L inline-six-cylinder engine is equipped with twin Garrett T28-type ceramic turbochargers. It also features six individual throttle bodies. This design provides a couple of advantages. First, it delivers instant throttle response. Second, it increases efficiency to get the most out of the turbochargers. The immense power provided by this design earned the GT-R's nickname, Godzilla.
Who should you allow under the hood?
Not every mechanic is equipped to handle a Godzilla. Look for a shop that stocks OEM JDM parts for regular maintenance, fuel and power upgrades, tune-ups, ECU tuning and complete car solutions. Local experts who specialize in performance cars can keep your GT-R purring for years to come. For quality service and parts, turn to the professionals at Fine Line Imports. For over 20 years, we've been the area's go-to source for expert servicing of performance cars.
Learn more
Interested in learning more about the GT-R R32, R33 and R34? Contact our experts. At Fine Line Imports, we have the knowledge and skills to answer your questions and keep your performance cars in top road condition. From regular maintenance to upgrade innovations, our trained mechanics know how to deliver quality results for your performance cars. Reach us today at 707-525-1536 with any questions about the GT-Rs, Nissan engines or the top service we can provide for your vehicle. We look forward to partnering with you for all your automotive needs.