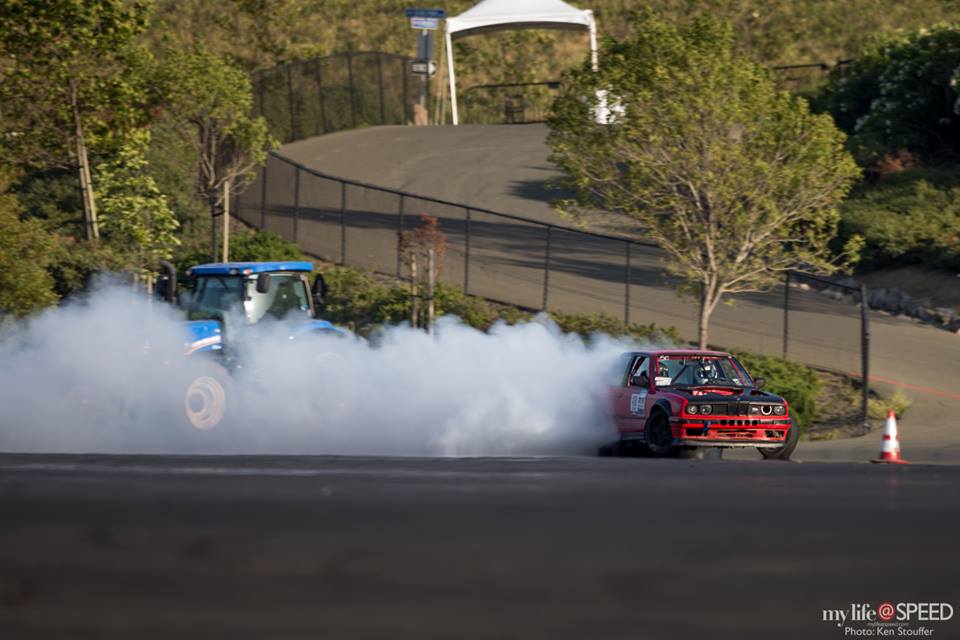 Keeping a 300whp race car moving at 100-miles per hour under control, while going straight down a race track is a hard enough task, and it's one which few people will master. Doing all of that, but instead going completely sideways, inches from another car, leaving a trail of tire smoke, requires an attitude, car, and skill set even fewer people possess. Donovan Brockway, with his wild BMW E30 M3 drift car, is one of those people. Donovan started drifting at 22-years old, and in the space of a few years he has become one of the best up-and-comers on the drift scene, and is poised to earn his Formula DRIFT Pro License.
Donovan's car of choice is a BMW E30 that has been specifically modified by North Bay Bavarian for the sole purpose of competitive drifting. In order to accomplish some of the extreme drift angles, and precise car control that is the hallmark of any good drift car, a complete overhaul of the BMW's suspension was needed. Giving the BMW the proper stance, is a set of Ground Control/Koni coilovers. An SLR super angle kit, and Treehouse offset control arm bushings allow this BMW's front wheels to pivot at extreme angles for precise car control when drifting. Rounding out the suspension upgrades, a Treehouse front and rear sway bar kit helps to keep the car stable.
Powering this sideways-sliding E30 is a 2003 BMW E46 M3 engine. Needing a little extra power than the stock M3 engine could produce, Donovan and North Bay Bavarian added an intake, header, full exhaust, and a complete fuel system, in order to extract even more power from the already potent M3 engine. Controlling and monitoring the engine was tasked to a Link G4+ stand-alone ECU, and a Cosworth Omega ICD dash. The Cosworth Omega ICD dash uses a 6.2" TFT display with onboard data logging and graphics processing, to give the driver a real-time and easy-to-read overview of vital engine data. The display is fully customizable, so it can be tailored to a specific racing series, as well as the driver's preferences. The Link stand-alone ECU and Cosworth Omega ICD dash were custom-wired into the car by North Bay Bavarian and tuned/setup by Fine Line Imports on our in-house Mustang Dyno. Running on 100-octane motorsport fuel, Donovan's BMW put down 316 WHP and 252 WTQ.
Since entering the drift scene, Donovan has racked up an impressive string of accomplishments in a short period of time. As of this writing, Donovan has 1st place finishes at Sonoma Drift Winter Jam, Thunder Drift Super AM, and Sonoma Drift Round 1, along with a string of top-5 finishes. Donovan and his BMW are on the cusp of taking it to the next level of drifting on the Formula D Professional series. With Donovan's passion for the motorsport, and his natural talent, Fine Line Imports is looking forward to many more 1st place finishes from Donovan and team Red Baron Racing.
For more information on Donovan's racing activities please visit Red Baron Racing, and for more info on the motor swap you may visit North Bay Bavarian. For information on the stand-alone G4+ ECU and Link's other products, please visit LinkECU. To learn more about the Cosworth Omega ICD racing dash, please check out Cosworth Racing Electronics!
BMW, Cosworth, Cosworth Omega ICD, D1, Drift, E30, Formula D, Formula Drift, G4+ ECU, LinkECU, Red Baron Racing