No, I'm not talking about the kind of snakes that Samuel L. Jackson has to deal with on a plane. This is the kind of snake every petrol-head actually wants in their garage. I am, of course, talking about the classic Shelby Cobra.
Recently, we have had the pleasure of tuning some fuel-injected Shelby Cobras for DenBeste Motorsports. This has been an exciting opportunity for us to provide our excellent tuning service on some truly iconic cars from America's motorsport history. Then there is the fact that the cars DenBeste Motorsports brings to us are easily among the best-sounding, and best-looking cars that have been on our dyno. The sound of an American CNC'd-aluminum V8 motor is one of the best and most recognizable in automotive history, at least in the opinion of yours truly. Among the cars DenBeste brought us, there was a 427 Cobra, a couple of 50th Anniversary Cobras, and a rare Shelby Series 1. The Shelby Series 1 is actually the only car that Carroll Shelby both engineered and designed from scratch, as opposed to re-purposing an existing platform by a major automotive manufacturer. Needless to say, the Series 1 is a very special car.
To give you an idea of why DenBeste Motorsports is working so hard at keeping the legacy of these legendary cars alive, I am providing an excerpt from their website which explains it nicely:
"Since before he could drive, Bill DenBeste has been fascinated with automobiles. His enthusiast's passion for cars, has continued to grow throughout the years and, is a result of his admiration for the contradiction of beautiful design coupled with outstanding power. Bill is an avid collector of Shelby Automobiles. Bill recognizes the complexity of unique qualities that are combined to create a superior automobile, and he believes that Shelby Automobiles are the finest examples of pairing superior design with domination.
Bill's passion for Shelby Automobiles is something he desires to share with others. He formed DenBeste Motorsports enabling other enthusiasts to own one of the World's most collectible cars."
All of the cars DenBeste Motorsports brought us utilize FAST ECU engine management to allow for custom tuning of these fuel-injected V8 motors. Each Shelby Cobra also has an aluminum body, making them extremely lightweight machines.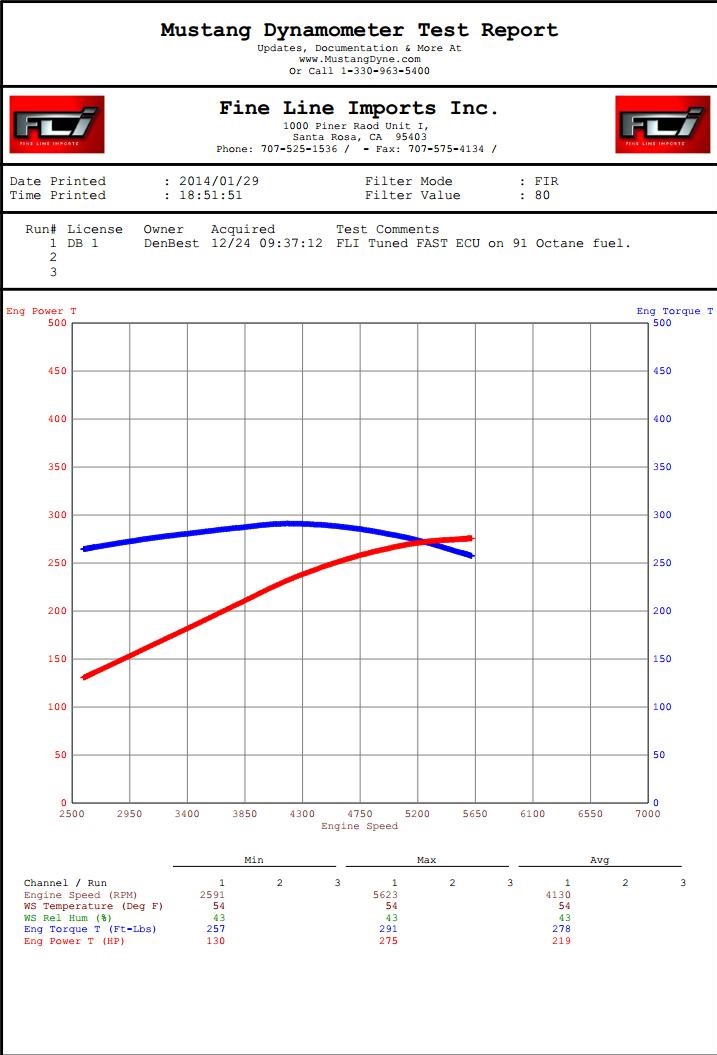 The first 50th Anniversary Cobra had a very restrictive 2" exhaust, which limited it to 275whp 291wtq.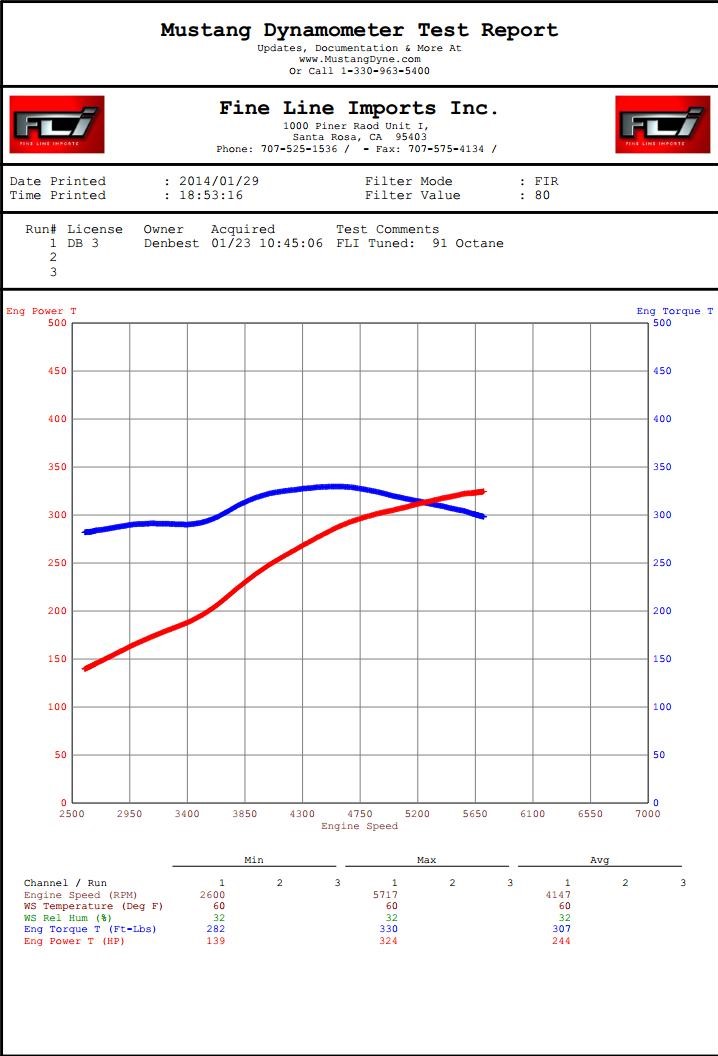 The second 50th Anniversary Cobra had about a 2 ¼" exhaust, allowing it to put down more power. Final numbers were 324whp and 330wtq. This illustrates the importance of a free-flowing exhaust system matched to the engine.
The 427 Cobra's graph is not shown due to the fact that its tires were slipping on the dyno, and therefore the numbers are misrepresentative of its actual power output. When the tires weren't slipping, the 427 Cobra was making 400whp/400wtq by 4800RPM, but at about 4800RPM the rear tires lose traction. This Cobra would probably have put down close to 500whp if it wasn't slipping on the dyno.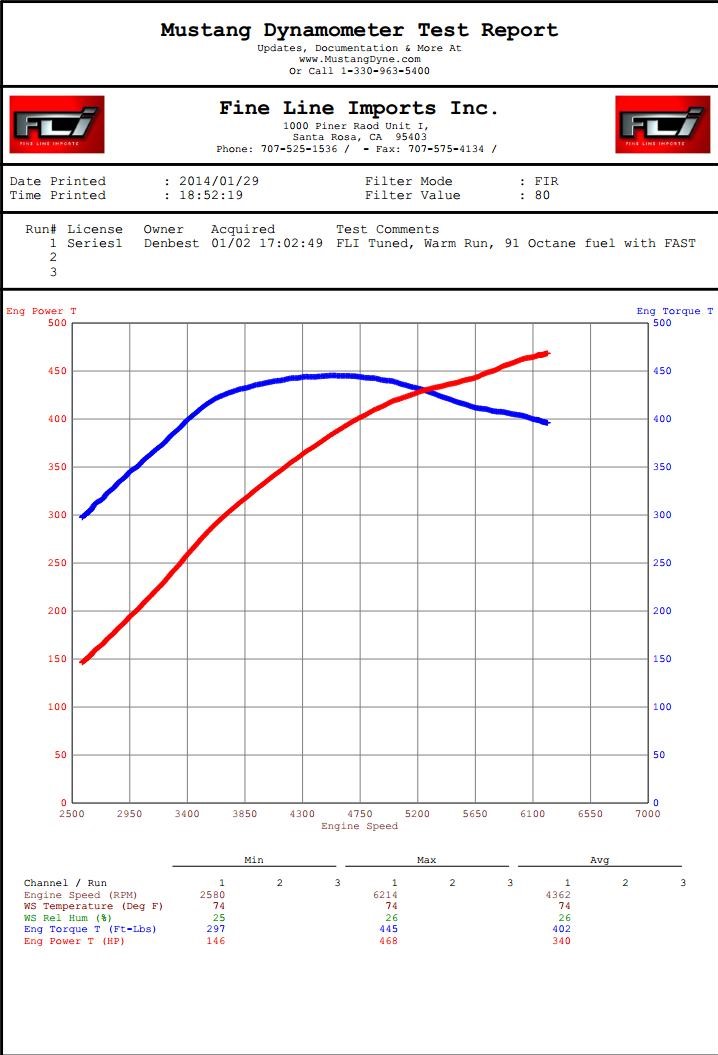 The Shelby Series 1 had a similar motor to the 427 Cobra, but is a heavier car with a different weight distribution, as well as stickier tires providing traction. The final numbers were 468whp and 445wtq.

To learn more about DenBeste Motorsports and the vehicles they offer, visit their website at http://denbestemotorsports.com/index.html. For more information on Fine Line Import's dyno tuning services, please check out the dyno tuning section on our website, or contact us if you still have any questions not answered by our website.

427 Cobra, 50th anniversary cobra, Carroll Shelby, custom dyno tuning, custom tuning, DenBeste Motorsports, engine tuning, FAST ECU, Fine Line Imports, FLI, series 1, Shelby Cobra, super snake