BAM X – Novato, California 9/12/10
BAM X – Novato, California 9/12/10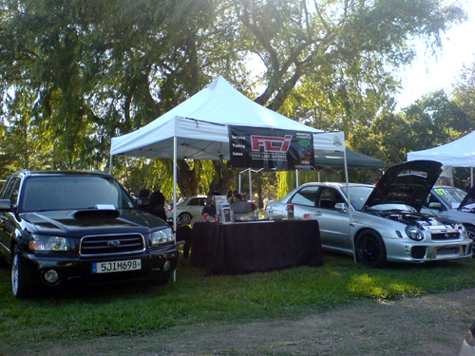 This past weekend (9-12-10) Fine Line Imports attended and cosponsored i-Club's 10th annual Bay Area Meet, also known as BAM. BAM is a gathering of Subaru owners and fans held once a year at Lake Stafford park in Novato, California. BAM consists of a car show, games, food, raffle, swap meet, and vendor showcase. This year Fine Line Imports' own shop Manager Ryan Smith's 2008 Forester XT was nominated for the car show under the Forester category.
In attendance at the event were shops from all around the Bay Area. FLI, LIC Motorsports, DB Tuned, and Detail Addict were a few of the many shops in attendance. All of the local Bay Area shops brought out their own race/project cars, and were on-hand to answer any questions people had. On top of that, local Bay Area vendors donated thousands of dollars worth of products for the raffle. All proceeds from the event and raffle help to benefit a local animal shelter that saves animals from being euthanized. Last year the event helped raise thousands of dollars for the Furry Friends animal shelter, and this year should be no different.
At the Fine Line Imports booth we had two excellent cars on display, our shop 2002 WRX, and a good customer's 2004 Forester XT. This is the first event our shop WRX has been to in a few years, as we have been working on a custom engine and V-mount intercooler setup. BAM was the debut of this latest setup on the WRX. The other car at our booth was from a very good customer of ours. His 2004 Forester XT is very well kept, and has a lot of very clean and simple mods that set his Forester apart from the pack. In addition to those cars, the FLI crew of family and friends was on-hand all day to answer questions and enjoy the event.
In this year's car show, Ryan's (FLI shop manager) 2008 Forester XT took home not only first place in the Forester category, but the "People's Overall Choice Award". This came as a total surprise, and was a nice way to end the fun-filled day. FLI would like to thank i-Club and all of the local Bay Area Subaru enthusiasts who help make this event possible every year. Without you this event would never be possible.