Jekyll & Hyde 07 STI LTD #417
Jekyll & Hyde 07 STI LTD #417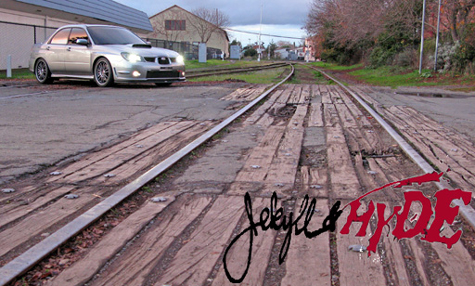 Passion, is the emotional energy that can be expressed in different ways.  All car guys have their passion when created, or being a part of  a special project.  This car in particular has many distinctive personalities which creates the character of the car.  As owner of the 417th of 800 total, 2007 Subaru STI Limited, Brad Wells understands and supports this idea.  It is simple: for two of the four most drastic seasons, there are two setups. The winter setup consists of snow tires, lighting and appropriate ground clearance. The summer setup goes to sticky rubber, aggressive suspension, minimal ground clearance and styling aesthetics.  For each setup, there is a custom tuned ECU map which concentrates on the driving style of that season.  In either setup, music, entertainment and videos are important to Brad because film production and media entertainment is his industry.  The stereo system is very powerful but subtle.   Great speakers and functionality allow you to talk on your cell phone (hands free), use the built-in navigation, play XBOX and PS3, watch a video or listen to music, all through a single touch screen unit in this LTD STI. With the duality of two personalities and purposes, the special project became known at Fine Line Imports as, "Jekyll & Hyde."
Power-
The power plant of this 07 LTD STI consists of a bolt-on Blouch Dominator 3.0 standard mount turbo with a Forge Motorsport upgraded billet internal wastegate.  Blouch created the turbo housing to fit the Garrett ball-bearing GT30 cartridge.  With a large turbo, it is important to have an efficient intercooler, intake, and exhaust system to keep the air charge from heating up, and to keep it moving efficiently through the engine.  The APS 725 front mount intercooler system, APS 3 inch turbo inlet, APS 70mm cold air intake, APS equal length header & up-pipe and Cobb tuning catless turbo back exhaust system were used.  An Alky Control kit was also installed to help keep the intake charge cool, and built-up carbon in the engine to a minimum.  Boost was controlled by the ECU along with a OEM 3-Port boost solenoid.  FLI started out with controlling this power plant with the factory ECU (AccessTuner PRO software saved on the Cobb Tuning AccessPort), but ran out of resolution of the fuel and idle parameters.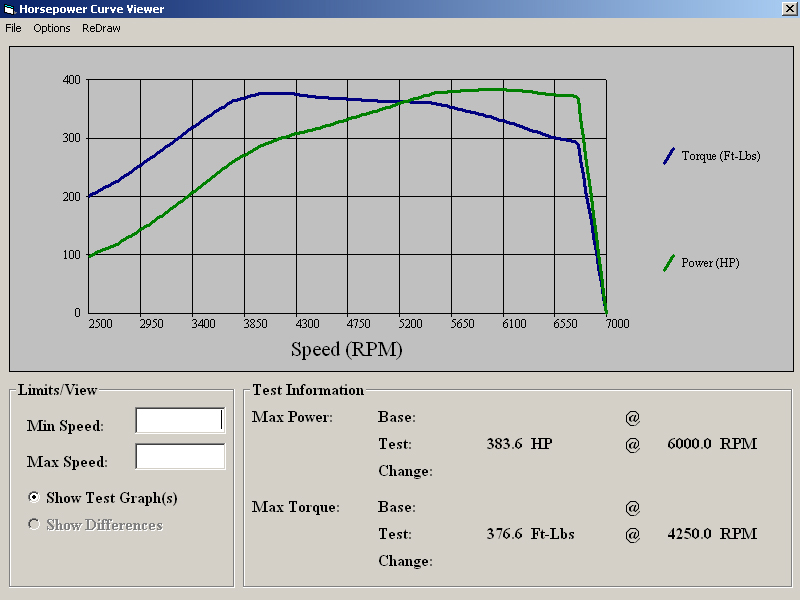 First 2007 STI to use a Link G4 Plug & Play ECU in the US-
With poor idle and fuel control in the factory ECU, FLI decided to go with the Link G4 Plug & Play stand alone ECU system.  At that time,  FLI was beta testing the 04-07 STI unit's for Link ECU (New Zealand).  The issue was not to maximize the resolution, rather to minimize it.  I know it sounds weird, but when you have excellent detailed control, it is easier and more efficient to minimize unless needed.  Now, cold starts, hot starts, idle, partial throttle, boost control, fuel mapping, and knock control are very responsive and easily controllable in the Link G4 ECU.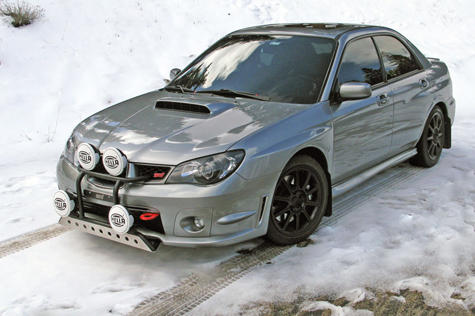 Winter Setup-"Jekyll"
The winter setup consists of Race Comp Engineering black springs mounted on Ohlins fixed perch adjustable shocks, Group N front & rear top hats, Cobb Tuning front & rear sway bars, Whiteline adjustable front and rear endlinks, Whiteline anti lift kit, Rally Armor mud flaps, FLI custom made front light bar (using Hella lights) with skid plate, and snow tires mounted on powdercoated factory Enkei wheels.  FLI designed this car to meet Brad's needs, which was capable / perfectly suited and balanced for both comfort, safety, durability, etc for high-speed cross county runs, in either summer or winter, and for elevations ranging from seal level to 12,000 feet.  This car covers a very diverse / wide range of purposes.  It should be noted that the LTD STI also comes stock with black leather heated seats.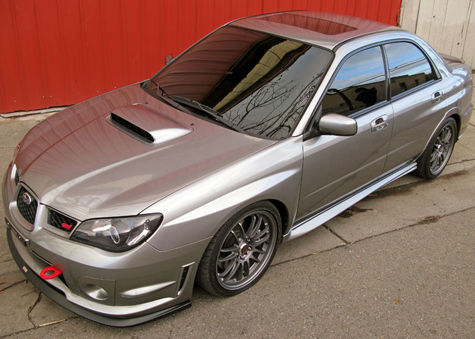 Summer Setup-"Hyde"
The summer setup uses a more aggressive KW Variant 3 coilover system, DMS front & rear adjustable spherical bearing top hats, Goodridge Eagle F1 tires mounted on 18 X 8.5 Volk RE30 Gunmetal color wheels and the STI Limited OEM front lip.  FLI created a more aggressive summer ECU map to maximize the power which can be changed from an external switch in the glove box.
Misc Parts-
Inside, there is a Sparco harness bar with a Schroth harness, 5 Defi BF gauges (with control box), Cobb Tuning short-shifter, Goodridge front & rear stainless steel brake lines, Ferodo front & rear brake pads, DBA 4000 front & rear rotors, custom carbon fiber engine bay cover, Ron Davis Radiator, Motul transmission, radiator and engine fluids.
Conclusion-
Jekyll & Hyde's dual personalities help create an all-wheel-drive Limited Subaru STI that can be driven year-round in fashion.  FLI and Brad were extremely happy with the way this project turned out, and we look forward to the next creative venture together.
Photography, Image Production by Wilson Tai / RACINGMIX
Stereo, engine bay dressing and interior cockpit by Cartronics Santa Rosa.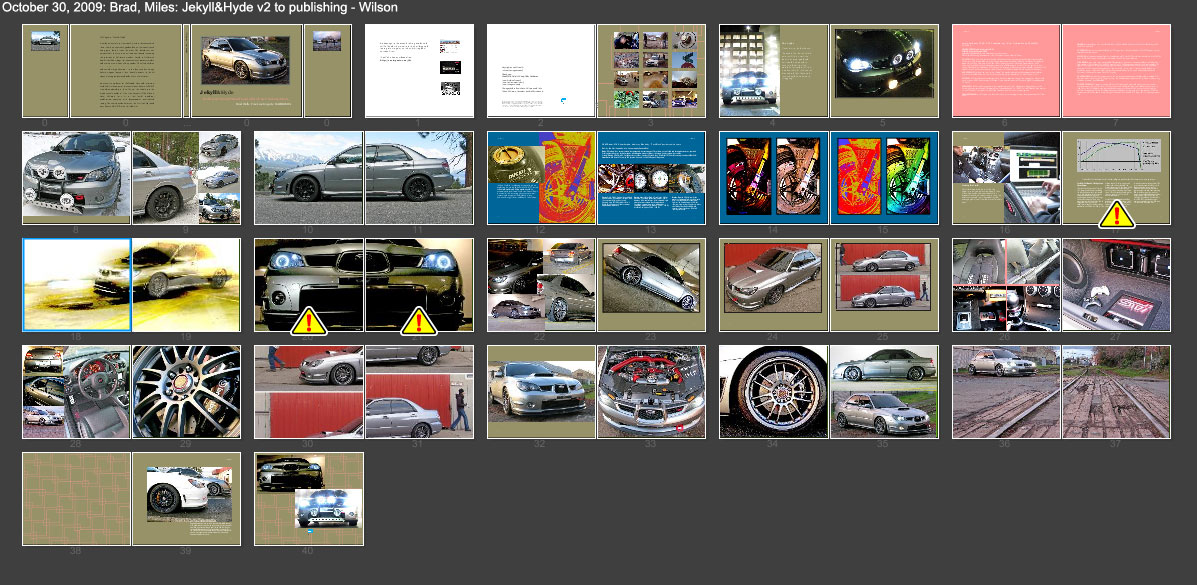 For a behind-the-scenes invite to the build and story of this special project, you can buy the book.
For more information about Brad Wells, visit here.
To see the behind the scenes video of "Hyde's" summer photo shoot, visit here.
Flip through book preview on YouTube.
---
SPEC LIST-
2007 Subaru WRX STI Limited 417/800 Urban Grey Metallic (UGM)
ENGINE:
AEM 3.5 bar map sensor, Alky Control Methanol/H20 Injection System, APS Equal Length Headers, APS Up-Pipe, APS 70mm Cold Air Intake, APS 525 Front Mount Intercooler, Blouch 3.0R Dominator Standard Mount Garrett GT30 (.82 trim) Turbo, Cobb Catless Turbo-Back Exhaust, Cobb Map Sensor Adapter, Cobb Lightweight Crankshaft Pulley, Cusco Engine Mounts, Forged Motorsports Internal Billet Waste-Gate with 17psi Spring, Link G4 P & P Stand Alone ECU, PE 800 cc Fuel Injectors, Prodrive 3 Port Boost Solenoid, Process West Oil Cooler, Prova Oil/Air Seperator, Samco Turbo Inlet Hose, STI Radiator Hoses, Walbro 255 ml/ph Fuel Pump, Zeitronix Wide Band O2 Sensor, Zeitronix EGT Sensor , OEM STi Belt Cover (Painted UGM), Gready Radiator Shroud (Painted UGM), Custom Hand Laid Carbon Fiber Engine Cover
---
SUSPENSION:
Carbing Front Top Strut Bar, Auto Addictions Custom Rear Strut Bar (Black / Crinkle Red), Cusco Type 2 Under Chassis Brace, Cusco 22mm Front and Rear Sway Bars, Whiteline Front Adjustable End Links, Whiteline Anti-Lift:
Summer Set-Up:
Volk RE-30 Forged 18" Wheels (Gun Metal Grey), Goodyear F1 245/35ZR18, KW Variant 3 Coil-Over Suspension with Compression / Rebound Adjustability, DMS Billet Front Adjustable Top Camber Plates, STI Group N Rear Top Hats, Titanium Lug Nuts, Volk CD128 Limited Edition Carbon Fiber Center Caps
Winter Set-Up:
STI Limited Wheels (Powder Coated Black), Bridgestone Blizzak Revo 1 225/45R17, Ohlins Fixed Perch Struts with RCE Black Springs, STI Group N Front and Rear Top Hats, STI Security Lug Nuts (Powder Coated Black)
---
TRANSMISSION:
ACPT Carbon Fiber Drive Shaft, Cobb Shifter Bushings, Cusco Transmission Mount, SPT Short Shifter
---
BRAKES:
Brembo Sport line Cross Drilled Rotors, Cobb Stainless Steel Brake Lines, Ferodo DS 2500 pads, Motul RBF 600 fluid
---
INTERIOR:
Schroth Racing Profi2 ASM 4 Point Harness with Cam Locks and Custom Harness Patches, Sparco Harness Bar, STI S204 JDM STI door sills, STI Titanium Shift Knob, Autospeed STI Dead Pedal, Custom Center Console Switch Panel, 12V Power Outlets, CarTronics Custom Glove Box Insert, Lightwerks "Red" Switches,  Dynamat (Interior & Trunk) SPT Extended Arm Rest
Summer Set-Up
STI "Pink" Floor Mats
Winter Set-Up
STI Rubber Floor Mats
---
EXTERIOR:
Lightwerkz Headlights with Custom Painted Inner Housing and CCFL Angel Eye Rings, Nukabe Tow Hooks (Front and Rear), Billet STI Front Bumper Trim, Rear Smoked License Plate Cover
Summer Set-Up:
OEM STi Limited Lip
Winter Set-Up:
Custom Rally Innovations Dual Light Bar (Powder Coated Black), Front Stainless Steel / Hole Punched Skid Plate, 2x Hella Rallye 4000 Compact  CELIS Black Lamps, 2x Hell Rally 4000 Compact Black Driving Lamps, Armor Aluminum Skid Plate, Rally Armor Classic Rally Mud Flaps
---
ACCESSORIES:
Cobb Urethane Exhaust Hangers, Hella Dual Tone Horns, Optima 35A Red Top Gel battery, Tein Hood Dampners, 3M Charcoal Window Tint (15 – Front / Rear / Rear Window, 5 Sunroof, 30 Windshield)
Gauges / Display:
Defi BF Boost, Defi BF Oil Pressure, Defi BF EGT Gauges in Custom Defi Triple Center Pod, Defi II Control Box, Apexi Turbo Timer, Zeitronix Black LCD Display
In-Car Entertainment:
Pioneer Premier AVIC Z110BT head unit(GPS, Blue Tooth, XM, Sirius, Microsoft Traffic), Focal 165 KR Front Speakers, Focal 130KR Rear Speakers, JL W6 Subwoofer, Apine PDX 1.600 Amplifier, Alpine PDX 1.150 Amplifier, Rockford Fosgate 1 Farad Digital Capacitor, Ipod Classic 180G, Custom Flushmount Ipod Adapter, Front and Rear Video Cameras, Xbox 360 (Custom Painted UGM), Custom Video Switcher, CarTronics Custom Plexi Xbox Enclosuer with laser etched "STI" logo and red LED Lighting, CarTronics Cstom Folk Cross-Over Rack, Audio Integrations Sub Enclosure, Audio Integrations Amp Rack, Monster Cable Power & Isolators and Droid X Phone.
Radar / Laser:
Valentine 1 Radar/Laser Detector with Concealed Display, Blinder M85 Laser Jammer
Jekyll & Hyde is featured on the Link ECU's website.  Visit here to view.
---