2010 UP2MTNS Debuts in 2010 at Desert Storm Rally with TheSmokingTire.com!
2010 UP2MTNS Debuts in 2010 at Desert Storm Rally with TheSmokingTire.com!
[slideshow]
All following material was written by Jon Burke from Up Two Mountains Rally Team –
DS was a great rally that took a full five days of towing out to Blythe, CA…then some car work, recce, racing, and towing back to San Francisco. The first issue came about when we were having some tuning issues a week before. It turns the car had a loose coil pack connection (easily fixed) but also an exhaust leak from our GrimmSpeed uppipe. True to their high levels of customer service, GrimmSpeed expedited a replacement part to arrive just before I hit the road for Blythe (Wednesday night).
Picking up my Crew Chief, Zach Dickenson in California City, we arrived at Blythe at 4pm on Thursday which gave us enough time to swap out the uppipe and still pass tech that night.
The following Friday was a full day of recce with Tom Morningstar (co-driver) and Matt Farah, both from TheSmokingTire.com. And here is their newest video:
http://www.youtube.com/watch?v=o-pAqd4TwPU
Racing starting early Saturday morning, and will some small technical difficulties on the organizers part, stage one (a long fast stage) was canceled and we quickly moved on to Stage two…Tom and I started out slow as we got to know each other over the intercom and slowly picked up speed throughout the day. Unfortunately a small off put us up and over a berm on the last stage and that through us out of contention for day 1.
Day two started with a bang as we actually won the first two stages, which were quick with some VERY rough spots (see videos below). This was a nice surprise as we were in the pack leading professional driver Lauchlin O'Sullivan and fellow regional competitor Keith Jackson. The lead was short lived as they caught up on the third stage, both longer and much faster, and their experience at those speeds took control.
Sunday, Stage 10
http://www.youtube.com/watch?v=35nlHMfeEIQ
Sunday, Stage 11
http://www.youtube.com/watch?v=gNFb5795QFc
Sunday, Stage 13
http://www.youtube.com/watch?v=35nlHMfeEIQ
We had to slow down a bit on the last stage as we had just busted a front axle on Stage 14 and had to take it easy…the 20kg center diff did a good job of keeping power down, and our 3WD Subaru was more like a RWD Ford Escort!
We finished 3rd OA for the day, a respectable finish for our rookie team, last minute fixes, and missing ANOTHER bumper!!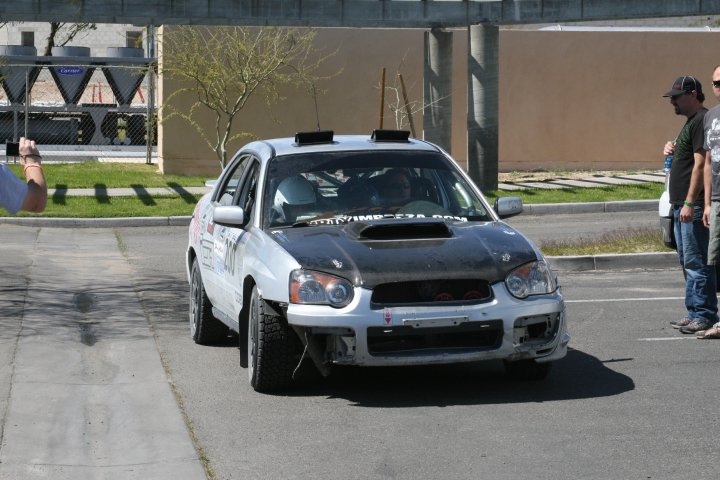 Big thanks go out to Miles at Fine Line Imports, the Grimmspeed Team, Lars Wolfe for some last minute emergency  suspension welding, and Odi at Feal Suspension for rebuilding a great set of inserts that took at beating!!
Thank you Jon, keep up the great work – Fine Line Imports
---
Here are the committed* stage rally events (and rallyX events) that UP2MTNS Rally Team will be competing in (or organizing).
We will be campaigning in the CRS Championship and USRC this year…hoping to give Keith Jackson (2009 USRC and CRS AWD Open Class Champion) a little more competition this year!

Feb 20-21 – CRS Rally School
*March 12-13 – Desert Storm
April 9-11 – NorCal Rally School (organizing with Paul Eklund)
April 17 – High Desert Trails
*June 4-5 – North Nevada Rally
*July 9-11 – Idaho Rally
*August 29 – Gorman Ridge Rally
September 18-19 – UP2MTNS Invitational RallyX
*October 1-2 – Prescott Rally
Date TBD – Seed 9 Rally
Co-drivers will be Tom Morningstart from www.TheSmokingTire.com for DesertStorm, and Tucker Heiner for North Nevada, Idah, Gorman and Prescott. All other events are co-driver TBD.
Crew Chief is Zach Dickinson (when available), and we're always looking for more volunteer crew members….free hotel (ok…ok….motel), food and beer!! (ok….ok….cheap beer)
Lets go RALLY!
Form more info, please visit