When the owner of this 2005 STI first came to Fine Line Imports, he was hesitant to modify his car in any way for fear that he would lose his factory warranty.   After talking with Brian and showing him some of the cars we were working on, he changed his mind very quickly.  The project snowballed into the car before you.
FLI and Brian wanted to build a complete fun daily driver that would be good for the occasional auto-cross as well. With that in mind FLI got to work on the power side of things first and installed a FP20g turbo, PE 850CC injectors, APS DR 525 FMIC, APS BOV, APS header / up-pipe, APS exhaust and a COBB Accessport.  This package proved to be exactly what the customer was looking for. Good low end response for AutoX, with a solid mid-range, and top end power band.
With the engine performance handled, next on the list was suspension and braking. To better improve the handling FLI installed a set of Tein Flex coilovers with the EDFC, along with a set of COBB front and rear sway bars. The sway bars, in conjunction with the coilovers, not only gave the car a better stance, they improved the overall handling of the car as well. To help stop the car reliably, FLI fitted this STI with Ferodo DS 2500 brake pads, SS lines, and DBA 4000 series rotors. Once all the work was completed, FLI put this '05 STI onto our Mustang AWD dyno, and tuned it for the finishing touches.
This package is one we have done before, and has always turned out to be a great-performing package. This package delivers great mid-range and top end power without sacrificing too much low end response. Overall FLI and this customer were very pleased with this setup, but after a few months the power was not enough, and this car was back at FLI for the next round of modifications.
Taking a big step up from the 20g turbo, FLI outfitted this car next with an ATP GT30 standard mount turbo, Tial 44mm external wastegate, and a custom FLI retune saved on the COBB Version 2 Accessport. With this customer wanting to do more track days and hill climb events as opposed to AutoX's, taking full advantage of the stronger top end the ATP GT30 provides would not be a problem. As you can see below the ATP GT30 does not have the low end response the 20g did but top end performance has been greatly increased.
With the engine squared away it was now time to bring this STI's suspension up to par with the rest of the car. To make this car more track-worthy, FLI upgraded this STI with a set of DMS 50mm coilovers, DMS front and rear camber plates, MSI rear subframe, MSI lateral links, MSI anti-lift kit, MSI front and rear endlinks, Cusco trailing arms, and a Carbonetics rear diff. The DMS 50mm coilovers offer independent compression and rebound adjustments, as well as ride height adjustments. Coupled with the DMS front camber/caster plates and rear camber plates, this STI has a multitude of suspension adjustments to suit any driving need.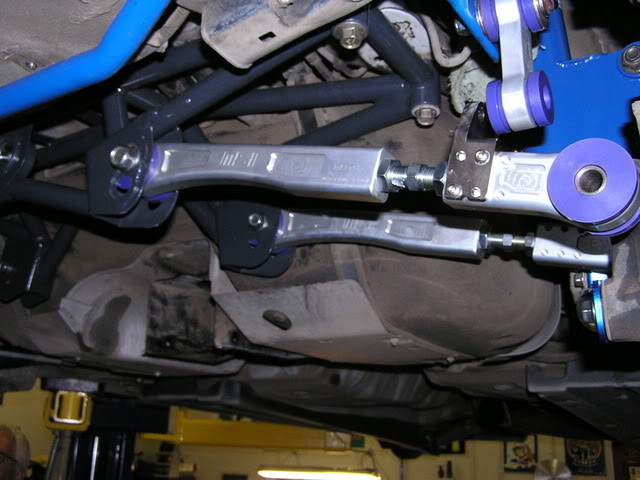 To put the final touches on this car FLI installed a set of Volk RE30 wheels in 18×8.5 with 245-40-18 Dunlop tires, Ron Davis Racing radiator, and a Greddy oil cooler. This would improve not only the look of the car, but make it more reliable, and safer for track use. Overall FLI is very pleased with the way this car turned out. Seeing it come from an every day street car to a fast and fun track car was a real joy. FLI wishes our customer the best of luck with the 2010 racing season.