FLI's Flagship 001 has been revamped
FLI's Flagship 001 has been revamped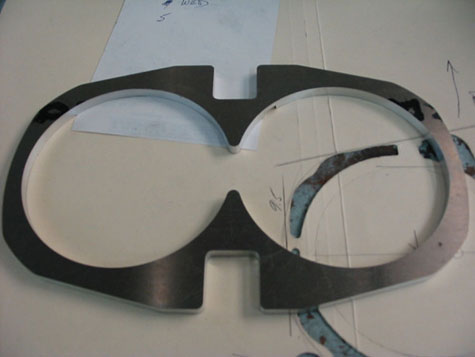 Flagship 001 was a well-balanced, respectable, daily street-driven 2006 STI. Although the car was making close to 400 wtq, and 390 whp on race fuel, the owner is now ready for more power, combined with a more aggressive look/feel for his STI.  FLI must stay true to the street driving status, so we had to come up with a power band that can be used on a daily basis.  Lots of thought went into this very special project car.
The FLI custom Stage 3 Engine Package-
Short block:
FLI's stage 3 closed deck 2.5 liter short block has been tested with great success over the years, and consists of our own custom 100mm forged pistons (using stock OEM rings), forged rods, coated main and rod bearings, and the stock forged STi crankshaft. FLI has designed these pistons to handle the power, while at the same time maintaining tight clearances for noise reduction. We chose to use the Moroso oil pan because of its very high quality baffling system, and extra large oil capacity. The Moroso oil pan works well with the APS equal length header, as you can see in the pictures.
Heads and valve train package:
FLI and the customer wanted an efficient, streetable engine package. When running large cams, idle and fuel quality tend to be lessened, so we found a set of Japanese Spec Subaru STI Version 8 complete heads and valve train. Normally FLI does not like using any used parts, but these heads have been fully tested for hairline fractures, and any other defects. FLI performed a multi angle valve job, and a minor street port on the heads. The JDM V8 camshafts and valve train are one of the best that Subaru has created.
Turbo and Exhaust System:
The heart of the turbo system is a Garrett rotated mount GT30R turbo, with a .82 exhaust housing. FLI made a custom up-pipe (which bolts up to an APS equal length header) that uses a Tial 44mm external wastegate, which is plumbed back into the exhaust system for noise reduction. FLI also custom-made an adapter so that the turbo will bolt up to the APS 3.5 inch turbo back exhaust. All flanges use heavy-duty V-band exhaust clamps.
*This engine has a compression ratio of 8.7:1 using .040 Cosworth head gaskets.
FLi Engine Break-In Procedure-
FLI's normal street car engine break-in procedure is performed on our dyno, and on the road. The first 85 miles is done on our dyno. The first 50 miles consists of simulating driving up a hill and letting the rpm fall in each gear, usually between 1000-5000 rpm. Using the aforementioned process during the first 50 miles places the most load on the piston rings to ensure that they are broken in properly. The following 35 miles we simulate driving normally up and down a hill, along with simulated freeway driving to make sure the air-fuel ratio (AFR) mixtures are safe for the customer to complete the final 915 miles on the street. The total engine break-in mileage is around 1000 miles.
FLI uses Motul Petro 4000 two-stroke engine oil for the first 1000 miles of engine break-in. After the initial 1000 miles are completed, FLI recommends using Motul synthetic oil, Mobil 1, or standard oil depending on the customer's preferences.
We are very excited to see what this street monster will produce, stay tuned!