APS Single Turbo G35 Update: Engine Break In
APS Single Turbo G35 Update: Engine Break In
There has been lots of progress on this project in the past few months.  Here is the breakdown:
LONG BLOCK-
The time finally arrived for FLI to assemble the complete VQ35DE(T) long block (blue printed and balanced) which includes a complete multi-angle valve job, and the factory valve train (camshafts, valve springs and retainers). This engine went together with no problems. All the proper clearances were verified and confirmed. This engine now has 8.8:1 compression (from 11.5:1), which will allow more boost safely on 91 Octane California fuel.
*Assembling this engine is much like a watch!  Check out all the Timing Chains.
---
FLI's Engine Break-In Procedure-
At this point of the build, it is now time to break in the engine. FLI's normal street car engine break-in procedure is performed on our dyno, and on the road. The first 85 miles is done on our dyno. The first 50 miles consist of simulating driving uphill and letting the rpm's fall in each gear, usually between 5000-1000 rpm. This puts the most load on the piston rings to assure that they are broken in properly. The next 30 miles simulate driving normal up and down hills, freeway driving to make sure the air-fuel ratio mixtures are safe for the customer to complete the final 915 miles on the street. The total engine break in mileage is around 1000 miles.
FLI uses Motul Petro 4000 two stroke engine break in oil for the first 1000 miles because it has minimal additives to ensure a proper piston seat. After the 1000 miles are completed, FLI recommends using Motul synthetic oil, Mobil 1 or standard oil depending on the customers preferences.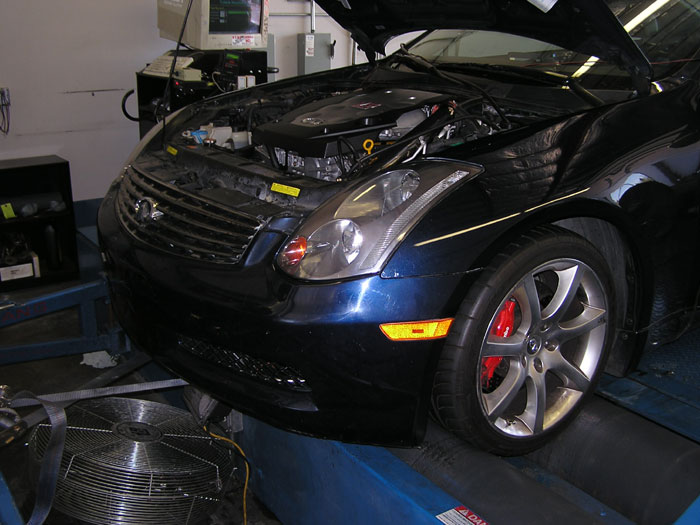 The customer has picked up this project car to complete the engine break in process. Check back for updates soon, such as a full power dyno graph, and summary of this great project G35 single turbo car.