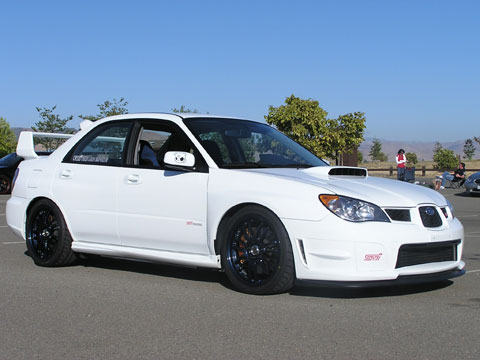 FLI has been very busy on the Flagship 001 2006 STI in the last 6 months.   On a cold rainy day, this set up made 402 torque to the wheels and 384 horsepower to the wheels!  Keep in mind these were ideal weather conditions, 55 degrees with 75% humidity in the dyno room running 24 max psi of boost.
---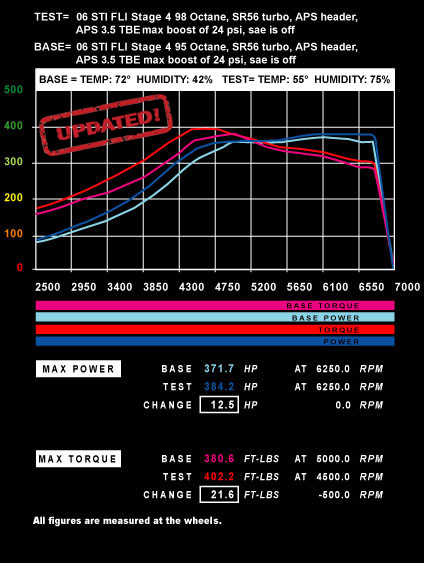 ---
As for the cosmetic changes, 18 X 8.5 Volk Racing RE30 Mag Blue wheels wrapped with 255/35/18 Bridgestone RE01-R tires, Varis carbon fiber rear bumper guard, and removal of the rear seats with seat belts and other weighted items.
---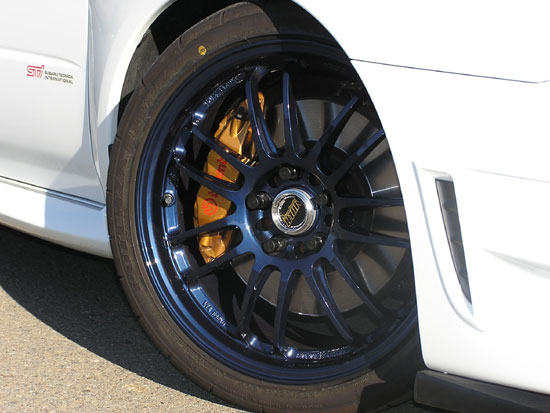 For power, FLI installed an Aquamist HFS-5 methanol/ h20 kit using the OEM JDM 12 liter tank (mounted in the trunk).  After maximizing the APS SR56 turbo with success on 96 Octane fuel, the customer wanted to step it up, so an FLI custom Garrett rotated mount GT30 (.82 trim) turbo kit was created next.  FLI adjusted the 12 liter JDM tank so the Cusco rear top strut brace will stay intact.  The spare tire will not be used in this project car!
---
---
We wanted to keep the APS equal length header and APS 3.5 inch turbo back exhaust to maximize the power so FLI made a custom up pipe.  FLI also used the APS rotated mount intake for simplicity.
---
---
FLI created a high quality V-Band exhaust flange set up for the turbo to down pipe portion of the exhaust.  This replaced the 3 bolt flanged gaskets that comes with the APS 3.5 inch turbo back exhaust.  To help keep the exhaust note to the minimum, FLI welded the Tial 44mm wastegate dump tube back into the down pipe.  Also, take note of the welds inside the exhaust pipes!
---
---
Here is the FLI custom turbo set up on an FLI mock up engine.  As you can see, this took lots of time to complete but fitment is 100% perfect.  After the fitment is complete on the mock up engine, the next step was to install it into FLI's Flagship 001.
---
---
Here are the final completed pictures.  Overall, FLI is very happy with this setup, but word around the shop is that Flagship 001 will be powered by an FLI Stage 3 closed deck block mated with STI JDM Version 8 heads (mild ported with a drivetrain upgrade), Moroso oil pan, FLI RFMIC set up, Cable throttle conversion, Link G3 Plus stand alone ECU set up with a custom FLI plug and play wire harness.  This engine's overall compression ratio should be around 8.7:1.  Other mods are 18 x 9.5 +35 offset Volk Racing RE30 Formula Limited wheels with Rays Formula Nuts, and a Japanese-made Varis carbon fiber trunk (wingless).  We are all very, very excited about this one.  Stay tuned…
---
---