Modifying Your Car: Where Do I Start?
Modifying Your Car: Where Do I Start?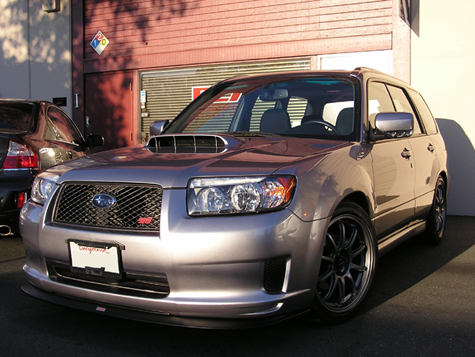 One of the most frequently asked questions I hear at the shop is " I have X amount of money. What should I do first?" This is always a tough question to answer because what I would do may not be what you are looking for in your car. If you are considering modifying your car the first and most important question you should ask yourself is "What do I want out of my car?"
What do I want out of my car? It sounds like a simple enough question but a lot of times the answer is not very simple or is hard to come by. Before you ever look up a part on the Internet or set foot into a shop, sit down and make a list of things about your car that you are not happy with such as performance, braking, handling, or interior and exterior looks. Once you have a list of what you would like to accomplish with your car, organize the items on the list in order of importance to you. Once you have your list it is very important to set a reasonable budget for yourself. We all love our cars and enjoy spending money on them but you do not want to go into too much debt right off the bat with you car. After you have your list of goals and your budget set the first place to go is your local tuner/performance shop.
Once you get to your shop of choice, drag out your trusty list and go over it with the shop. Always remember that no question is too stupid to ask and the first meeting is the best time to ask all the questions you have concerning your car. Most professional performance shops will be more then happy to answer any questions you have. Personally, I prefer to provide our customers with as much information as possible so they know exactly what they are getting into every step of the way. After the first visit, if you still want more information this is a good time to go to the Internet and do some research if you still have unanswered questions. It is very important to remember that if you did not feel comfortable with the shop you visited you should not take you car there. For the most part, your car is one of the most expensive things you will own and feeling confident in and trusting the shop that is working on your car is very important.
Once you have decided to modify your car there are several important things to remember. First and foremost, with almost any modification that you make there is always a trade off. For example, a modification to make your car faster will also decrease your car's gas mileage; if your car is lowered it will typically ride rougher. It is important to understand exactly what the trade offs are before you get any modification for your car. That way you will not be surprised by the side effects of a modification or buy something that you are just going to take off later. The next thing to remember is that after-market parts are not OEM. Their fit and finish, depending on the brand of part you purchase, may not be up to par with what came off your car. That is why it is important to choose high quality parts that are well designed and have been manufactured for your car. Here at the shop we thoroughly test and stand behind every product we sell. High quality parts tend to cost more but in the long run they will perform better and be easier to install then some lesser brands out there.
In conclusion, modifying your car can be fun and will bring out the hidden performance in your car, but to ensure that your car keeps running properly and performs the way you want it to, take your time and do your research. With the right combination of parts and tuning your car can go from daily driver to weekend warrior for a decent price with minimum sacrifice of daily drivability.