Team UpTwoMountains FRX Rally Cross WRX
Team UpTwoMountains FRX Rally Cross WRX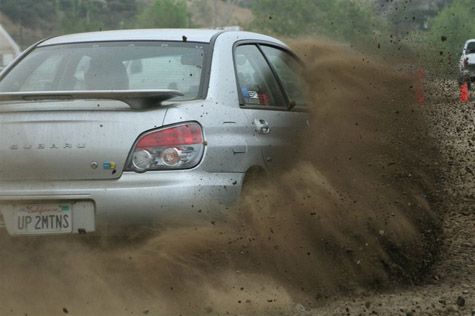 This project is a off road auto cross contender that races in the Formula Rally Cross (FRX) group. Near the end of 2007, the factory turbo (TD04) died and ran oil throughout the 2.5 liter factory STI block/FLI Stage 1 heads engine set up.
UPDATE FOR 2008!!!!!
Jon Burke made his Stage Rally debut at Gorman Ride Rally co-driving for Keith Jackson in his open class 2006 STI. Keith and Jon came in 3rd in their class and 5th overall! The two will also be competing at Prescott Rally October 2nd and 3rd. This experience is critical to next year's entry into rally driving!
---
Overall 2007 Season Results:
FRX: 2nd Place
CRS: 3rd Place
Published Results (SM4 Class):
FRX: http://formularallyx.com/schedule.shtml
CRS: http://www.californiarallyseries.com/results/total_points_X.htm
---
Individual Events (Chronological Order)
Ridgecrest CRS Rally School and Rally Cross event 5th place March, 07
Paul Eklund's Rally School (Portland, OR)
Glen Helen 2-3rd Place
Glen Helen 3-4th Place
Antioch 1-2nd Place
Antioch 2-2nd Place
Johnson Valley 5-3rd Place
Laughlin Motor Sports Event Day 1: 1st Place
Day 2: 4th Place
---
For 2008, engine upgrades include a FLI Stage 1 block (2.5 liter, 8.2:1), FLI Stage 2 heads with JUN 256 degree camshafts and a Blouch 20G turbo. Other upgrades are a FLI/Greddy custom catch can and a Link G3 plug in Stand Alone ECU. Power was increased to 325 wtq and 319 whp with only 17.5 psi of boost! Key features of the Link G3 plug in ECU is gear dependent boost with closed loop idle and knock control. For more info about the Link G3 ECU visit here.