RCM's NEW 4 Stage Dry Sump System EJ20/22/25
A key concern with any Subaru EJ engine, which has been tuned for performance or race use, is that of a reliable oil supply. A Dry Sump System can offer levels of safety and reliability which cannot be achieved when utilsing a standard or even baffled wet sump configuration…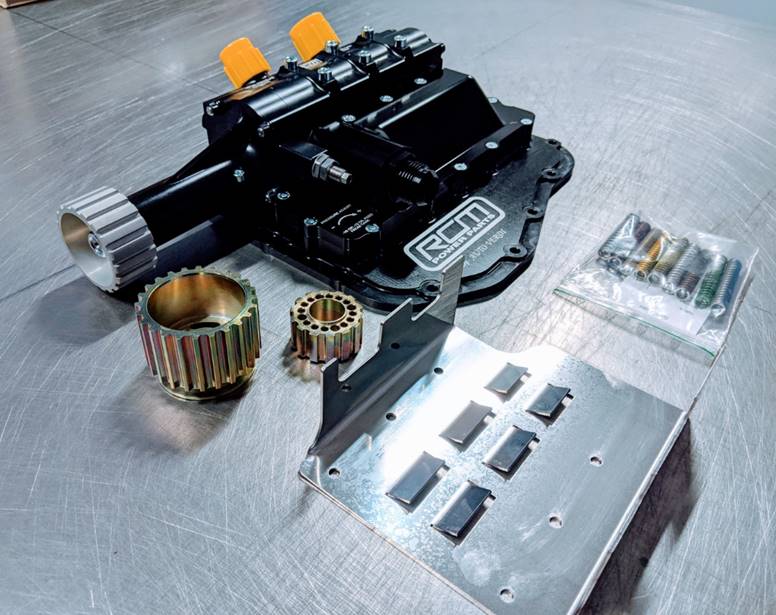 Fine Line Imports
Fine Line Imports specializes in high performance Fuel Injection, custom Electrical Systems and Engine Management services along with enhancing Japanese imports—specifically Subaru, Nissan and Mitsubishi EVO models.  We are extensively trained to repair, maintain and improve the performance of your ride! Come to us for custom-tailored engine, transmission and drivetrain rebuild packages, alongside with OEM services and comprehensive tuning packages.  We do work on other applications as well, contact us with details.
---
Maximize Your Car's Performance
Your car's performance depends entirely on how you care for it. If you're looking to unlock more horsepower, better fuel economy or increased boost, the first step is visiting Fine Line Imports for precision tuning. Not only do we take a quantitative approach to vehicle optimization, we have high-tech hardware and a full inventory of aftermarket and OEM parts to make sure your car gets exactly what it needs.
Our specialty is performance fuel injection, wire harnessing / harnesses and computer calibration.  We also offer performance and stock engine replacements in Santa Rosa, CA. We also offer factory or performance transmission rebuilds, engine heads, suspension kits, power packages, chassis upgrades, brakes kits, alignments, sensors, lighting, PCV systems and automotive computer reprogramming. With access to a full inventory of OEM and aftermarket parts, we've got everything necessary to take your car's performance up a notch.
We carry full performance packages for Subaru (EJ and FA), Nissan (VQ, SR and RB), Mitsubishi EVO (4G63 and 4B11) models. Each of our custom packages are selected by our in-house experts, to optimize your car's performance.

Specialty Parts

We also have a well-stocked inventory of specialty parts, to ensure the very best in aftermarket upgrades and custom modifications. FLI hand picks ALL inventory parts down to the nuts and bolts.

On-site Installation

All performance parts and packages are fully installed on-site at our shop, by well-qualified experts—complete with DYNO tuning for confirmation of your investment.

ASE Certified

We're a Evolve Lubricants (PTH Oil's) and Motul fluids provider and our staff is ASE certified, to ensure we're delivering best-in-class products and workmanship.
Full Service Solutions

We're your destination for complete maintenance solutions, including oil changes, factory-scheduled service, suspension, brake work and more.  No need to go to the dealership anymore.

FLI supplies XS Power batteries along with DC Power 180 or 270 AMP Alternators. Both are made in the USA and are the highest quality you can get. All vehicles need to start with battery power for any success. We also custom crimp all battery and alternator cabling in house using motorsport products.

Need custom fuel, power steering, coolant, oil, boost, vacuum, clutch or transmission system lines? No problem, FLI can supply you with custom in house crimped lines ranging from stainless steel braided to 910 fabric (worlds lightest) both PTFE inner lined, aluminum or steel lines. Either drop off a template or have us measure for you. Get the proper fittings and lines to save yourself frustration later.
---
Fuel Injection
All modern cars use fuel injection to deliver fuel to a combustion engine. Proper fuel flow from the fuel tank to the engine is necessary along with computer(s) to precisely open and close the fuel injectors, control fuel pressure (direct injection) and update instantly with many different factors including elevation, density, heat, temperature and flow. This injection control needs to be injected at the most efficient time with the proper opening times in the combustion process which is set by the engine calibrator. Before you get to this point, you must first have a proper mechanical parts plan to supply enough fuel for this control.
There are many different strategies or Models on how to control fuel injection. Mass Air Flow and / or Speed Density being the most popular in the OE environment. As technology gets better so do ideologies of these Models. Volumetric Efficiency, Throttle Mass Flow and Manifold Gauge Pressure are just a few examples. These can be combined in a closed loop (ECU controlled with sensor feedback info) or open loop setting (calibrator controlled, not controlled by the ECU). The more resolution, the more precise outcome can be achieved. Emtron Engine Management, Pectel (Cosworth Electronics) and Link ECU's do a fantastic job giving all the necessary tools for the engine calibrator to map an engine at the highest level. For example if needed, you can get creative and create custom strategies for control. This is the main reason FLI chooses to be manufactured trained and gives the necessary product support for each company.
The two main modern locations of the injectors in the engine are "port injection" where the injectors are mounted on the intake manifold and "direct injection" which are mounted in the combustion chamber. Direct injection is a popular replacement for port injection due to combustion efficiency. Direct injection allows fuel pressure to be from 500 PSI at idle to 2500+ PSI at wide open throttle! Better fuel economy and more power with less displacement can also be achieved using higher static engine compression.
Contact us for a consultation of your fuel system for more info.
---
Optimize Your Ride
Already have a performance engine or custom aftermarket setup? Keep it maintained and properly calibrated with DYNO tuning! Our shop is home to the only four-wheel drive linked chassis dynamometer in the county. This gives us the unique ability to simulate road conditions up to 140mph, to map performance and measure torque and outputs in real-time. Thanks to our specialized equipment and years of industry experience, we're the go-to partner for owners of track and performance cars looking for tuning in Santa Rosa, CA.
Our dedication to your vehicle runs deep. We take the time to deliver customized service and precision tuning for every unique vehicle. Our team is also available for routine maintenance services, to ensure prolonged performance and maximum benefits. If you're driving a performance vehicle, join our family today and make sure your car gets the individualized, professional attention it deserves!
Get in Touch
Get better fuel economy, increased horsepower and better engine longevity with performance tuning! Schedule service with Fine Line Imports today to optimize your ride!